11.30.04:::another year down:::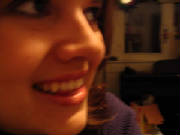 I turned 24 somewhere around lunchtime last Saturday. I think I like 24 alot more than 23... older... more mature... closer to another drop in insurance costs!
My birthday was great (aside from having this flu or virus or whatever it is I have). I woke up, watched Sleepless in Seattle, went to Target with Rocky, my mom, brother, and his girlfriend (Michelle)... then on to Chick-fil-a, get gussied up for a tasty Brazilian dinner complements of Brioso Brazil (and provided by Rocky) and then out for Martinis. It was a great birthday. Yay for good family and good friends.
Thanksgiving was just as good - family fun - good food - wine - movies - sleep... very nice indeed.
Aside from the two highlights, I've been a bit under the weather (and by a bit I mean COMPLETELY under the weather). I have a flu or a virus of some sort. It's making me really achey and fevery and blah. Hopefully it goes away soon.

Well - I don't have much to say when I'm sick, so I'll end here.
11.18.04:::Mid Afternoon Antics:::
Today I attempted to learn to juggle two balls with one hand. I got to three rotations twice, but I failed every other time. I'll try and learn again another day.
I also found this AWESOME picture from the Texas/Texas Tech football game. Maybe Tech should have a spelling class as a core course (and perhaps they should make sure EVERY student can spell TECH) - just a suggestion. Thank God for Texasdrums.com when it comes to pictures like this. Another good picture is of the gang in Colorado and Sara is giving the shocker... but I won't post it... I just love that she is doing that. That is all I have this afternoon. Enjoy.

11.16.04:::oddities and such:::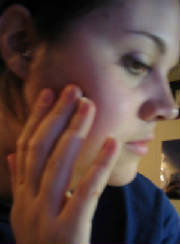 The weather is pissing me off. It's too warm for November. Tomorrow is supposed to be 73, but they predict snow in one week - SNOW when tomorrow is 73... SNOW 7 days from 73. I thought Texas weather was odd. Don't get me wrong, I LOVE the snow - but it's not going to be cold enough to gather. :( They are lighting the square this weekend and it isn't even going to be cold *sigh* So much for picturesque.
I've been spending the evening listening to my Radiohead "OK Computer" cd... I forgot out great that CD was. Oh, that and Massive Attack - both evoke TOTALLY different emotions from me. Radiohead seems to be evoking a very apathetic emotion from within me (the I could not go to work tomorrow and not really care emotion) and Massive Attack just turns me on. Can't help it - it's good music like that. That is why one buys Massive Attack isn't it?
Oooh - it makes me want to listen to Stereolab - funny, I can't find any of my Stereolab CDs. Hm.
I need to start working out. I've become such a lump. By the time I get off work it's already dark out - can't really go jogging at night (okay, I could but it can't be that safe). Maybe I need a subscription to a gym... there are a few around town. Get back on those elipticals!
I think that is it for my slew of random thoughts for the evening.
I'm out.

11.14.04:::and back by morning:::
I do believe that this weekend was the shortest Austin trip I've been on since the one day drumline camps the summer before my freshman year as a student there. However short it was, it was also the PERFECT one night get away. I really needed some Texas time. Barbara and I were going to go see The Polar Express at the IMAX, but it was quite sold out so we went to some stores and just hung out instead. It was great... I miss my old roommate :( We had Double Daves and watched some of the game, went to the Co-op where I proceeded to buy a $50.00 cowboy had, a bubba bull, and a mug (all purchased with my rebate of course). We then do a few other "haning out" type things.... OOOOH, and we went to the new Cracker Barrel there... thank goodness I don't live there anymore or that store would be the end of me. I don't lie either, money would be spent there. We had Hula Hut for dinner (Nummy!!!) and rented Day After Tomorrow and bummed around. I met her new kitty (Jezabelle) and had a good nights sleep listening to a Texas thunder storm out of my window. It was quite nice. I had to come home today, but not before brunch at Trudy's with Sara and Barbara. I miss my Sara too... very much! I am so excited for her though. She got a job in Dallas for the end of January and yay for that! I'll go visit her and show her the North Texas ropes. *jealous* SO - don't get my wrong... I love my apartment, my job, my location, my new friends, and being near my family, but I do miss Texas. I'm sorry, but I'm Texas born and bred - can't help but long for that state.
A friend of mine picked me up and gave me "Cozyheart Penguin" (Carebear Cousin) as a "welcome home" surprise. Yeah, my friends here are pretty awesome. It's quite a cute little guy and I really wanted him after I found him a couple of weeks ago. And yay! Now I have him :) Cute little Cozyheart... I just need a shelf to put my penguin collection on. There are some penguin PJ bottoms at Old Navy that I wouldn't mind having - perhaps someone will remember that come my birthday in two weeks.
My God... two weeks and I'll be 24. Is there an abort button on turing 24? I suppose it will be a good thing, but it seems like I just turned 23! Gracious.
On another topic - I have so many things to say to a few different people and I just need to get those things off my chest... be it online or in person or over the phone, I just need to say them and let them be said. No expectation of a reply, I just need to get them out of my head. I think that would be quite theraputic.
To all of my Austinites I saw and didn't see this weekend - I miss you all terribly and can't wait until my resume is padded enough here in Arkansas that I can move home and set up shop in Austin once more. *hugs to all*

Goodnight
11.11.04:::dust:::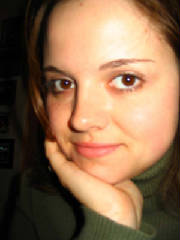 Tonight I saw The Incredibles... quite entertianing in my opinion. Definitely a Pixar to see in theaters.

I really don't think I have too much to say today - once again, I've been doing alot of thinking today. I see the one thing I wish for happen to other people - people luckier than I... I can only hope that one day...I'm sure anyone who is reading this is reading something other than I mean - the song "This Grudge" by Alanis really sums up alot - but sometimes it is hard to let go. You can easily cover things up, put other things in front of your feelings, try to hide it, try to forget it, overshadow it, make it small and minescule - but it's always there until you let go... I don't know if I can do that yet. I thought I had - for over two months I thought I had. But the end of that just made me realize I hadn't... and other recent events have shown me that I haven't. It's just hard to put away something you enjoyed so much I suppose. In the end that is all it is.

So I'll end with these lyrics...
"I want to be big and let go
Of this grudge that's grown old
All this time I've not known
How to rest this bygone
I wanna be soft and resolved
Clean of slate and released..."
"This Grudge" ~ Alanis

11.10.04:::Austin by Saturday:::
...hey girl come with me and let yourself go...
O.A.R
of a revolution
"In Between Now and Then"
- This is currently my favorite CD. I can't get enough it. I'm hooked. That is all to be said. I just love the sound more than anything.

On other news - I am officially going to Austin Saturday morning and will be returning Sunday afternoon (which means no Kansas game - but I'll survive). I had a craving for Kerbey Lane today and I think I'll go down there and satisfy that. Lucky for me I have American Airlines benefits and friends that are so excited to put me up for the night. I'll be staying with Barbara and I'll get to meet her new Kitty Cat! I'm so excited. I'm really quite beside myself. I want to do my happy dance but no one will be here to witness it in all of it's glory. I think I'll save it for work.

Speaking of happy dances - I did one tonight at Hobby Lobby. I went to look at Christmas Decorations... correction, I went to look at poster frames and got sidetracked in the glittery meca of red and green. I walked out with a small tree for my kitchen table and all of the necessary trimmings... and no poster frame. Luckily the person I was with understood my obsession with the Holidays and carried ornaments while I darted from aisle to aisle ooing and ahing over the grand commercialism. Yay for good WAC friends and their tolerance.

I have the windows open tonight to listen to the rain and I think it's really messing with the Schmoo - which is way more entertainin than it should be. She's not used to the sound of rain I suppose. She's been running around yowling at me (hopefully it's just the rain... I'd feel bad if something was actually wrong and I've been laughing at her). The rain was completely peaceful... it's something I needed. While I've had a good day (it was perfect outside, always a good day with perfect weather) I've also had a day of thoughts. I went to lunch with my sister and told her about this weekend and got sad again. I just don't know how I feel about everything. Some parts of me relieved, some parts of me still a bit sad. I was talking to someone online tonight and she typed a dancing smiley which BJ always typed - made me think of him. I think I miss the friend more than anything. To be expected I'm sure.

And now for your viewing enjoyment and in honor of my last minute mini-vacation - the Austin Skyline. Goodnight all.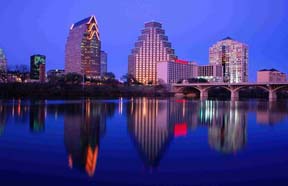 11.9.04:::eh - I was wrong:::
Okay - I don't think anything is missing. I thought about it long and hard tonight (I was really listenng to Kronos Quartet live, but it left my mind to wander).
I shall post a list of qualities and such I want in a guy/man that I had done up last March or April - and I'll either modify it or add to it (the first 9 are the original 9 and additions and changes are obvious)
:::
1. College graduate (or close to it). - this is OH SO IMPORTANT
2. Has goals beyond college.
3. Non smoker/substance abuser. - once again - a must
4. Fan of many types of music.
5. Fun, but serious when need be.
6. Not skin and bones (I hate scrawny - it's not my type at all)
7. Knows how to argue - give me a challenge on that one.
8. Isn't pushy about time. I have my space, give it to me.
9. Angelic on the outside but oh so unangelic when it really comes down to it.
10. Likes sports but doesn't plan his week around it.
11. Will tell me when something is bothering him instead of waiting for me to bring it up.
12. Tells me how he feels about me - what he's thinking - what he's feeling.
13. Tells me if I'm cute, pretty, smart, interesting, fun, etc.
:::
Okay - I think those are fair additions. Can't sell myself short this early in life.

On the topic of Kronos - tonight's concert was nothing short of amazing. They really are one of my favorite instrumental ensembles! I'm glad this evening was spent at Walton Arts Center enjoying that show.

And now for my new topic. I keep posting things like "things i need to do before Christmas" and such - well, how about a list of "to-do" for the end of the week. Christmas is too far away (and yet - oh so close at the same time) to plan to have something done by then. I will just procrastinate as always and never finish it. SO, task number one for this weekend - FINISH SCRAPBOOK!!! I have a ton of odds and ends that need to be put in my scrapbook from my years at UT. It's all just sitting in bags right now.
Task number two for the weekend - START FLEECE BLANKET!!! I think those are doable tasks. Not too time consuming and fun as well. I'll update you on whether or not I actually get them done. Cross your fingers for me.

I have a confession to make (and perhaps an apology as well). I was talking to Mark last night and he told me about his getting to go to Europe for Christmas. I listened for a bit and then told him I didn't really want to discuss it because it made me realize how much I want to go and can't ('cause of education bills, hospital bills, and life basically). I feel HORRIBLE today for that. If I was going to Europe for the holidays I would want to tell everyone about it. Mark - I am very, truly, utterly sorry that I cut that conversation short last night. I've been in a melancholy mood and Europe was the last thing I wanted to talk about last night. Please pardon my bitchiness.

To go to Kansas this weekend for a football game or not - I don't know if I really want to go. I got the tickets for me and BJ and without his wanting to go I'm kind of apathetic about it. Should I go or just stay home to work on my many projects?

And it's late - goodnight.
11.7.04:::something missing:::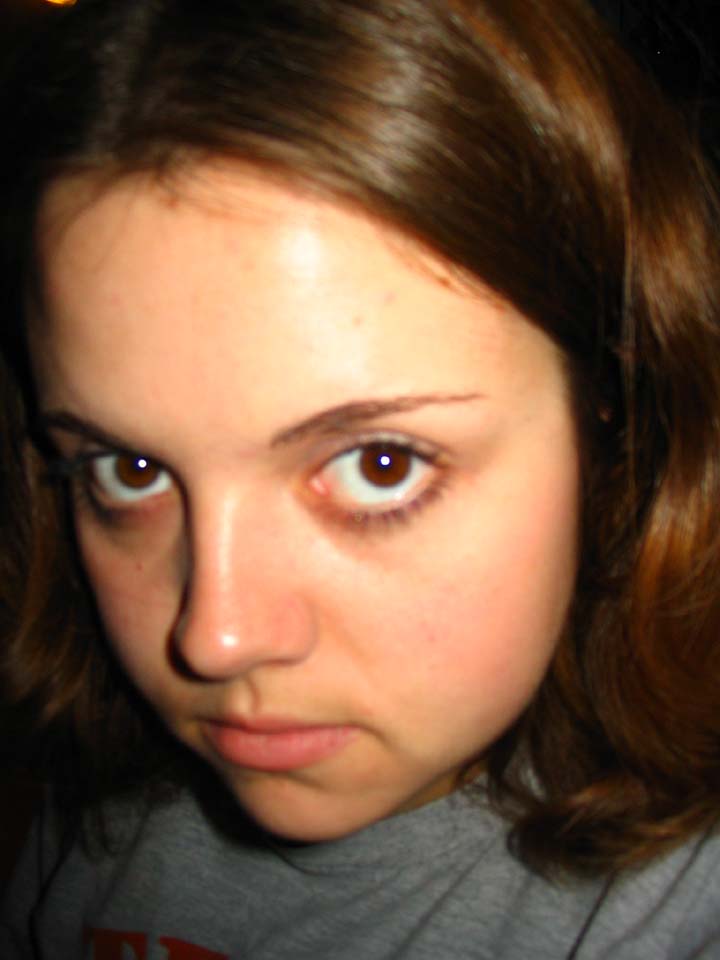 Tonight I can't really tell if I'm sad or just emotional (two different things). I'll be fine - cleaning out my soup pan - and then just cry. The past two weeks have not been happy once, but before that I was quite happy. I wonder how life works sometimes. I really hate feeling like this though. I shall make a promise to myself - NO BOYFRIENDS UNTIL I DECIDE WHERE I'M GOING TO SPEND MORE THAN A COUPLE OF YEARS. There, it's a good promise I think. Keeps me from getting hurt in the meantime I suppose.
On another note, I really did a good job cleaning my apartment up this morning! It's nice and shiney and smelly good. At least something productive occured this weekend.

Sometimes you need a break and you don't get one. Life sucks like that.
11.6.04:::aftermath:::
after all is said and done - I feel that a HUGE weight has been lifted off of me today. However, I do wish he would have said something when he felt things were over. I HATE being drug along - but 'tis finished. While I'm quite sad... I'm also ready to not have to worry about it anymore. The past two weeks have been a bit of a drag.
Well, Texas pulled it off tonight. HUGE kudos to my team. I was a bit worried through dinner and then didn't look at the score again after halftime because I was devestated. I then come home, boot up the computer and check the score - HOLY CRAP - we pulled off over 50 points in the game... 56 to 35 or something like that. Take that OSU. I'm doing my happy longhorn dance up here in Fayetteville. I wish I could have been at that game.
Off to clean out the cat box and get ready for bed. Goodnight.
11.5.04:::sucking the life indeed:::
F*ck Oklahoma. That is all I have to say about that. There is only one good thing about Oklahoma - it keeps all of it's inbred rednecks contained. If there was no OK then they would spread out and some might filter into my beloved Texas. They let some guy off on Marijuana charges, but not me with my tiny speeding ticket that wasn't even mine... I know that without a doubt. Oh well. Life moves along I suppose.
I did some kind of "ancient chinese test" thingy online tonight where you rank animals and come up with description words for different things and all of this says something about you (yadda yadda). Well, I used "salt" to describe ocean. That is supposed to represent my current life. Yeah... "salt" pretty much sums it up. A bit of it is wonderful, but just a grain more is WAY too much. Open wounds don't want salt and unfortunately, I seem to have a few open wounds. Some are new, some I thought had healed, so I suppose that hadn't afterall. It really made more sense than it should have.
So - I have something new to look forward to. Barbara is coming to down at the beginning of December. This is also Sara's graduation in Austin, but I'm going to go down there the next weekend to visit her. It just didn't work out for me to get there - and I have to work a bit late on that Friday so I would have been getting into Austin QUITE late. This all works out better. So... YAY for Barbara coming to Fayetteville.
Well, it's been a very long day. I'm going to go cozy up under my covers and read my Alcade (Texas Exes publication)

night all
11.3.04:::should have known:::
I really should have known from the onset. I should have stuck to my guns about not finding someone I like here in Arkansas. I found someone I like very much and it's hurt me - once again I'm hurt by a guy. I need to stop doing that. Maybe I need a new hobby... or a 2nd job... or something. This Erin is a sad panda.
On other topics - I'll be heading to the lovely town of Colcord, OK tomorrow to argue this stupid speeding ticket. Lovely time I'll have there I'm sure.

Could be worse I suppose... could be worse.
11.2.04:::vote:::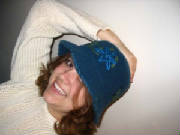 This election is TOTALLY stressing me out. I really don't know how I'll react if Bush wins - pack up and move to Canada when my lease is up perhaps. Heh, who knows. I was surprised with California going Kerry! There is hope in the world. Oh, and Travis county went for Kerry (yay Austin, TX). I'll just have to wait and see what happens (but the ulcer is starting to form). I'm having to watch the remainder of the election online since I couldn't sit up at work ALL night mooching off of their tv (i don't get the cable - it sucks). Hopefully Yahoo! is on top of their updating for the remainder of the evening.
In other news, I'll be in Austin in a month! THANK GOD. I need some Austiness in my life. Loving it here, however, missing it there (that's allowed). I'll get some real Texan Tex-Mex and hang with the clan. Oh, and perhaps hit up 6th street and hug a Longhorn. I'll be there for the graduation of my Sara. How very happy graduations are!
Welp - I think I shall go sit and not stress out over the election and dream of the Thai food I'll be eating tomorrow night.

nini

11.1.04:::26 more days:::
until my birthday. I'll be old again (24!). It's pretty cool actually. Now that I'm working in the "real world" 24 is just one step closer to more respect I suppose. Better than one step further away from cool (as it was in College). I wonder what surprises my birthday will bring this year.
It seems like I'm always finding a spoon along the road of life to stir everything up with. And let me tell you - life has certainly been stirred this past week. I'm still trying to sort everything out and it hasn't been easy. Fun, yes, easy, no. Oh well. I just need to figure out what I realllllly want and learn not to settle. So - this shall be the start of yet another one of my lists:
Things I want or want to do:
1. Establish myself in my job before moving on to the next one (I'll be in Fayetteville a bit longer than I thought to do that)
2. Someone who tells me I'm cute, or fun, or smart, or that they love spending time with me - I had that once, I want it again and won't settle for less (it is just something that makes me happy to hear)
3. Live life to its fullest no matter where I am or what I'm doing - no more skipping out on things
-I shall think of more things to add to this list and update it accordingly
The start of November brings many things for me. It's almost my favorite time of year (the Thanksgiving - Christmas cluster). I noticed that the powers that be have began the assembly of lights in town for Christmas type decorations. How perfect! Hopefully this month will fly by and the Holiday season will be upon us in no time. I need to pick out my annual Christmas CD. Two years ago I got an awesome one and last years Wyndam Hill CD was just as amazing - however, I'm a bit stumped this year. Don't know what to go for. Any suggestions?
I really think it's the hopeless romantic in me that adores the Holiday season as much as I do. There really is no better way to spend a Holiday season evening than going to look at Christmas lights, listening to Christmas songs, drinking hot cocoa, cuddling up with someone special in front of a Holiday movie, and dreaming of Holiday things. Yes - definitely the hopeless romantic in me that loves that.

And while I'm on the topic of Hopeless romantic - I have a rant. I hate that it is hopeless romantic... I much more prefer the term "hopeful romantic". Doesn't that sound better? I think so - I shall use that term from now on.
side note (or question) - what in the hell is wrong with the BCS? I personally think they have something against Texas. Oh well - at least the other two polls have it right.
10.26.04:::halloween spirit:::
I can hardly believe it is Halloween already. Time is really flying by! Part of me really wishes I was still young enough to go trick or treating - however, I'll have to survive without a bag full of assorted candies. I am looking forward to a scary movie night with BJ. Any movie suggestions? I think I might make some halloween goodies and such to really put people in the halloween spirit. Once again, yes, I am that domestic.
So - I must brag about the reallllly sweet thing BJ did yesterday. When I got home from the store last night, BJ was sitting in my parking lot just to say "hi" before he had to go to a movie. *grins* He came all the way down to my place just to say "hi". I think I was smiling about that all evening. It really made my week. I love things like that!
And other good things - some guys at work have invited me camping the next time they go. I might take them up on it. The promised I wouldn't be the only girl. I have wanted to go camping since my arrival here in Northwest Arkansas!

Okay - time for a meeting.
10.23.04:::finding a voice:::
I have so much to say... many things... important things. However, I'm really finding it hard to find the voice to say them. I always walk on eggshells and I seriously need to stop. I have no reason to - I need to say my piece and just let it go. How do I go about doing that?

I spent the day in Eureka Springs. I must say, it was quite the perfect day for that. The trees were pretty colors, the weather perfect, and the salt water taffy tasty! There is only one thing that could have made it better - however we must refer to the topic that started this post. I just spent the day strolling, chatting, a bit of working, and then spent the evening watching some amazing dancing. Pilobolus Too is quite impressive. Oh - I even fit some baked brie into my day! yum.

Gosh - I really don't have much to say tonight. Sorry about that. I'll get some pictures up soon as well.
Night all.
10.22.04:::humidity reigns supreme:::
I have to say - it is NASTY outside today. It's humid, warm, and it smells like Chickens here in Northwest Arkansas. Not a pretty combination. It's even hot inside, but my manager and I discovered it was due to the thermostat being set at 80 degrees. I thought I was having hot flashes 30 years early!
Today I stole a chicken. The person across from me has a squishy chicken on their comptuer and I had a brain - so I switched. He hasn't found his chicken yet, but he noticed the brain. It's quite amusing for those of us in the bullpen (what they call our wing at work). For now I'm enjoying the company of the chicken -it's way more entertaining than the brain.
Tonight is movie night! BJ and I are renting "Day After Tomorrow" and "Van Helsing". I reallllly need a movie night. Hopefully both of those movies will be good. I'm also going to broil a strip steak and such. So it shall be a good night I believe.
I'm sending my appeal letter to the West Siloam Springs Clerk tomorrow. It's good... I refuse to pay that ticket. ESPECIALLY now that my car needs a new alternator (probably because I drove through Oklahoma and that place sucks the life out of EVERYTHING).
Buhbye
10.21.04:::so what?:::
So what if I'm a hopeless romantic? Is it wrong of me to want the googly talk, a flower, enthusiasm, holding hands and skipping through a field, candles, quiet dinners for two, random calls just to say "hi", sweet messages, whispers, dreams... is that so wrong? I don't think I'm wanting too much. I think I just need to find it or let it come to me or something. I'm not going to be completely happy without the hopeless romantic in me getting some of the action. Sometimes it would like to think it's getting it's due... and sometimes it just sits somewhere inside of me watching reruns of Friends. I'm so fucking back and forth - it's not even funny. *sigh*
Did anyone who reads this site do the free ipod thing? I know someone who got theirs... and I was just curious if anyone else did. I just did one, but it's a free Kitchen Aid Stand mixer (yes, I am that domestic). Who knows, maybe I'll be surprised one day when there is the ONE kitchen item I've been wanting for well over 4 years just sitting on my porch. That would be quite the lovely thing. I think the first thing I would whip up would be my yummy chocolate chips cookies! mmmmMMMmmm. This offer better bet legit. I checked them out with the BBB online and everything *crosses fingers*
Random though - the Schmoo is hyper - I wish I had her energy. She just runs back and forth and back and forth - jumps on the bed - jumps on the tables - back and forth back and forth. It's exhausting!
Another random though - I really want to go camping. Here I am in the middle of some BEAUTIFUL countryside, and I'm not camping. What is wrong here? I shall go in search of someone to camp with. I believe that no one should camp alone - what if you had to battle a bear! Heh. Maybe camping alone would be theraputic however. Nevermind, half of the fun is sharing your hot cocoa with someone.
This weekend I get to go to Eureka Springs! I have really been looking forward to this for quite sometime (probably since I started working at WAC). Pilobolus Too will be performing at the Auditorium in Eureka and I shall make a day out of it. I'll look at the lovely trees changing colors, stross, relax, and have a candied apple of course! Can't forget that :)
And that leaves me with one final thought: You really can't let life pass you by... some things happen every year, some things you only get one chance with.
10.20.04:::life is...:::
This morning I woke up and looked out my dining room window and realized that life is indeed quite sweet. It's just a beautiful day outside. The trees at work have started changing colors - but it's not just a green one day - red the next day chage, it's a TON of green leaves with bright red edges... quite lovely really.
That is all I had to say... it's just a good day today.
10.19.04:::me me me:::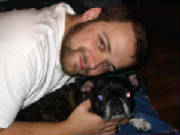 BJ and his doggie
Time to focus on me again. I keep losing site of what I decided to do last spring break... focus on me... reach my goals... do what I need to do to be happy. However, I've forgotten what it is that will make me happy. Can one single person make me as happy in one year has he makes me now? Can I continue to be happy just working or do I need to go back to school like I wanted to do just a few months ago? Am I happy here in Fayetteville (I am liking my location more and more everyday and eventually I will make more friends)? Where do I want to live in 5 years? Northern California (yes please), Philly (yes please), Toronto (YES please) - see.... too many choices in life. I think I just need to start dreaming again. Day dreams always fueled my wants before, I just have gotten away from the day dreams and need to find my way back.
This weekend I went to Tuscaloosa with BJ to meet his parents and friends. I have to say, it was a good time. We went to the Alabama vs. Southern Mississippi game on Saturday and yay for Alabama - they won! BJ's parents were very nice as were his friends... totally different crowd than the type of people I hung out with in college... not bad different, just different different. Unfortunately - the weekend was quite short. I would have enjoyed spending more time there. Oh well. Next I'll be taking BJ to Austin to meet my friends. He's met Stephanie, but there is still the Sara test to pass :)

Random thoughts of the day:
I need to clean my apartment (the dust bunnies on the hardwood floor are multiplying)
Coffee really does the number on your pearly whites - no more coffee for me
Cookies really do the number on your middle - no more cookies for me
I'm ready for Christmas


10.13.04:::two feet behind:::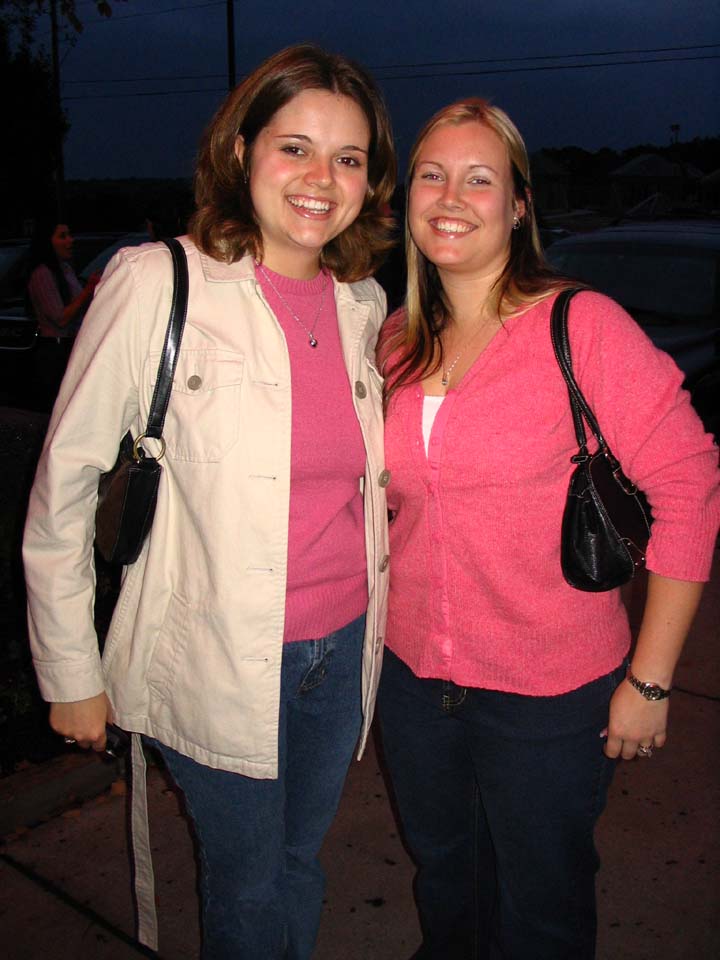 yeah - we are that cute!
Two feet behind is exactly what I've been all week. I can't seem to get caught up at work. Everytime I turn around, there is a new phone call, a new client event, a new meeting, a new file to go through, a new hotel to book, car to book, food to plan/buy... I just need two more hours in my day and I don't have two hours to give. It seems if someone has to bitch at work, it comes to me and I'll file it with the correct person. I don't believe that was in my job description. Okay - it's not everyone, it's just 1% of the people... which really narrows it down to one person. Thankfully tomorrow is my Friday (since I won't be at work on the normal Friday) and I'll have a three day weekend OUT of town where people can't call me with silly things.
I also feel two feet behind in life right now. Just when I think things are grand, something rears its ugly head and reminds me it's not. Like... this weekend. I had WAY too much fun with Stephanie. We shopped, gossiped, looked at pictures, shopped, ate, drank, and were merry of course. On the way home from Tulsa I got a ticket for going 15 miles faster than I actually was. I SWEAR that he pulled over the wrong white car. It was dark, it was rainy, it was dark... did I mention the dark part? I'm still a bit pissed about it. I want to go to my court date to try and make Mr. Oklahoma police man see the error of his ways, but I also don't want to use personal work time to do that. Decisions decisions.
I also feel two feet behind for other reasons. I've been here since May 23rd and still I sit at home at night when everyone else is having fun. It's things like this that reallllly remind me why I want to move back to Austin... where my friends are... where my haunts are... you know, where everyone knows my name... that place. While there are happy things here, sometimes I just sit being sad and I hate that. I'm not a sad person... only really have been once (okay - twice, one was due to outside circumstances). I just don't feel included in anything. I've always been included... I've always tried to include others... this is just a new and very empty feeling. It leaves me questioning things.

On happier notes - Godiva Hot Cocoa has to be the BEST cocoa that can be bought ready to make. I made some up tonight and it reminded me WHY I love cold weather. What isn't to love about the cold? You can wear jackets, boots, scarves, mittens, sweaters, blankets, fuzzy socks, drink cocoa, have hot soup with warm crusty bread, make casseroles, make fires and sit by them, listen to Christmas songs (even if it isn't December) and almost get into the mood because, once again, it's cold outside. Cold makes the leaves turn amazing colors here in Arkansas. There is this one tree on the way to my mom's place (on Mission) and it's the most vibrant red. Everytime I drive by it my breath is taken away. I wish I could capture it forever, but always forget my camera when I'm out there.
Well, the cocoa has been drunk and my lids are heavy, so I bid bon nuit.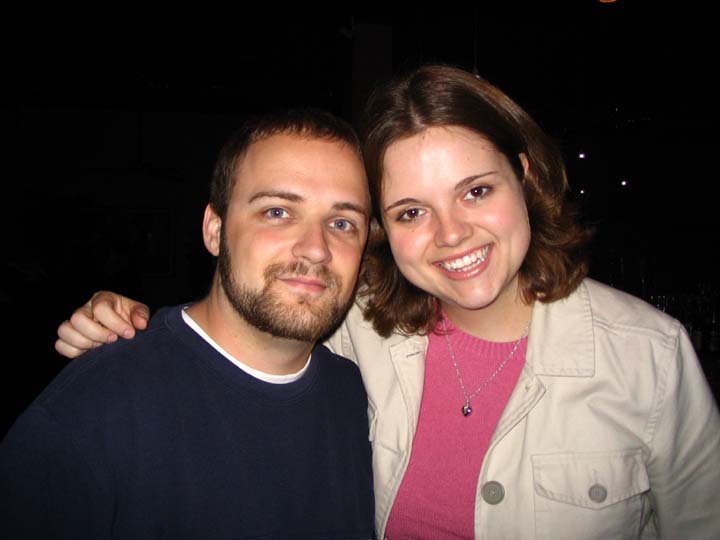 une bonne nuit au perroquet bleu
10.7.04:::like a recipe:::
I suppose almost everything in life is like a recipe. Some recipes give you more freedom... those are the less important things in life. Some recipes, however, require EXACT measurements (like baking)... those things are oh so important (don't want to mess up a thing like baking soda, that really screws up a muffin). And that is all I have to say on that subject.
Stephanie comes tomorrow. We shall shop, drink margaritas at OTB, gossip, laugh, make fun of people who have bad fashion taste, talk about all of the bitches we've known through the years, and maybe drink another margarita! HEY, girls have their priorities. I have not seen her since her Wedding (eek). I'm a bad friend... I know, I was busy last year.... then I was depressed... then I was busy again... and then I moved. I've had excuses! But yay for her coming. I'm really looking forward to it.
The Red River Shootout is this weekend (hook 'em). I'm looking forward to it. I think we'll play better this year than in past years... at least, I hope so. I'm crossing my fingers on this one. This picture is in honor of the game.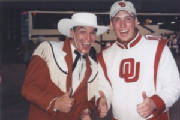 scenes like this really aren't found at the red river shootout... I think Neo staged it.
10.3.04:::fourteen point five:::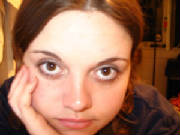 14 and a half hours was the amount of time I spent working today. The alarm rudely went off at 6:15 AM so I could be at work by 7AM... 7:10 am - the police show up because my building code is obviously not the right one. So - the morning started off with a bang. I get drinks and breakfast set up for the La Traviata Load in crew by 8:15am. Then off to Wal-Mart for lunch stuff (of course I had breakfast along the way). Back to WAC to set up lunch, watch crew devour lunch, clean up. Off to Sam's for dinner stuff... then to Wal-Mart again because Sam's sucked today (note to Sam's, get more packaged mayonaise salads... potato alone does not cut it). Then back to WAC to sit for 30 minutes and sip a soda with Mari. Then to set up dinner, cut 8 sandwich rings (because once again Sam's sucks just enough to not cut my $200 worth of sandwiches). Set up dinner, watch the crew and cast devour EVERY last crumb (although there was one orange wedge left - odd). Clean up, set up for breakfast, home. *sigh* I'll be back up there at 7am to play this game again. However, tomorrow ends at noon. I think I need a massage.

This weekend was fun. Friday I went out to my moms and slept in the country. It was QUIET, the breeze coming in the windows was cool and refreshing, and it was motorcycle free. At least Bikes Blues and BBQ ended today. As entertaining as it was to see all of that spectacle, it was way too noisy last night to get any sleep at all. Yeah, I'm working on 3 full hours of it! I think I had a caffine iv all day :)
Saturday was spent doing random things. Prowled Dickson being entertained by bikers, lunch with the family, ice cream with grandma, filed some stuff, cleaned, used a razorblade to cut open my windows (they were painted shut) and just relaxed. Even though today was long, this was a very good weekend. HOWEVER, i miss BJ very much. Erin = sap.
Hmmm - that might be all I have for you today.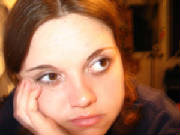 this picture pretty much sums up how i feel right now
9.30.04:::my vote... Kerry:::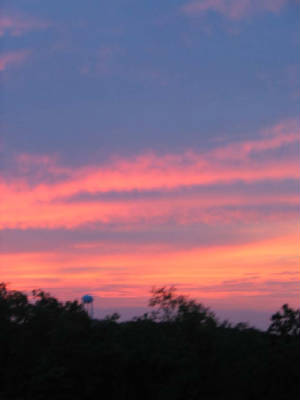 the sunset on Tuesday night
based on the lack of silence during the debate alone. I was SOOOOO tired of watching Bush just sit there and stumble over his words or not having any words at all. COME ON!!! Think faster. November 2nd - go vote... if you don't I'll kick you in the knee.
It was the first time I actually sat and watched the debate... and paid attention (only occasionally did I take a gander at my new Marie Claire magazine). I knew before the debate who had my vote and the debate just solidified it. I know there are two (tentatively) more debates, but if they are anything like tonight's, it's a guarantee I won't be hanging with elephants come November 2nd.
This weekend shall proove to be interesting. Tomorrow night is a bachelorette party for a girl I work with. My downstairs neighbor is planning it and it sounds like fun. Tex-mex and drinks on Dickson. Yay for that. I'll just ignore the fact that we'll be fighting bikers for a place at the bar. That brings me to my next activity this weekend. Bikes, Blues, and BBQ. I'll be trekking out on Saturday to view all things leather. It should proove to be interesting at least. I did smell some good BBQ today and played a game at the Bic booth and won... you guessed it... a Bic pen. Oh fun times during my lunch hour.
Sunday is gonna be a long day. La Traviata is in that night and the hospitality for it starts at 8AM. Blah. I won't be back home until around 8PM I'm sure. Oh well, it just gives me Friday off without having to take the hours away from my "bank of hours". So yay for that.
I'm feeling better about everything than I did a few days ago. Things happen like they are supposed to. Life goes on. I'll figure things out. I'm really quite happy with my life right now, no need to let the lack of money bring me down.
Something that has been making me incredibly happy lately. This fantastic gentleman I know (BJ). He makes me smile, he makes me laugh... no... giggle, I make him laugh, he talks with his hands, he doesn't mind when I can't get a single ball in the pocket when we play couple vs. couple at pool, he likes to hold my hand, he doesn't mind raspberries, he actually liked the Texas hat I got him for the game in November, he tells his friends about me, his friends like me, he's smart, he's cute, he's comfortable, and my mom likes him.
Yeah. He's pretty fantastic. Too bad he's out of town this weekend - making it the second weekend in a row we couldn't spend some kind of time together. The thing that really gets to me is just spending one day a week together, or two if we're both in town on weekends. *sad sigh* I hate being a girl - girls get sappy. Sappy is bad... i think. Any opinions on that?
I did a bad thing at Wal-Mart tonight. I bought Nutella. Nutella is the devil of the breakfast/dessert world. I was weak, it was in front of me, it was in my cart. What could I do? weak weak weak
Sooooo... I'm gonna plan a trip to the DFW area soon. I don't know when, but I know it's coming. I have too many people to see down there - Stephanie, Lisa, McKee, Mark B., my Dad... too many people. Too many for on weekend.

Well - 'tis time for a shower. Scrubby scrubby.
9.27.04:::adversity:::
This is just me bitching – so bare with me.
Today just got really bad. My short term insurance I had that covered me my last semester of school has denied payment on my emergency surgery because they didn't approve it first (approval takes 2+ weeks – emergency surgery can't wait 2 weeks). I added up my bills and I don't really know what to do short of selling myself on a street corner or changing my identity and hiding out in Russia or something. I'm going to exhaust all options (dad, family, aid, anything) and only when I can't get money elsewhere will I start looking into a second job (which I don't know where I have time for) or something else. I don't know what to do. If anyone who reads this has an idea please let me know… if you know of companies that help people out on stuff like that. ARGH. When it rains it pours sometimes. Some people float through life never having adversity, and others get more than a dose full.
On other news – Alumni Band weekend was great! I saw old friends, watched some football, gossiped, marched, played, and just enjoyed myself. Of course, it did help that Texas beat Rice in the football game – always a good thing when your team beats their opponent! Saturday night after the game, I went to Bennigan's with Lisa, Christy, Sara, Ben, Rebecca, and John. That really was a GREAT end to the trip. I honestly didn't want to leave. I miss that place. But it was good to be back home as well.
That's all – buhbye.
9.23.04:::Pilobolus:::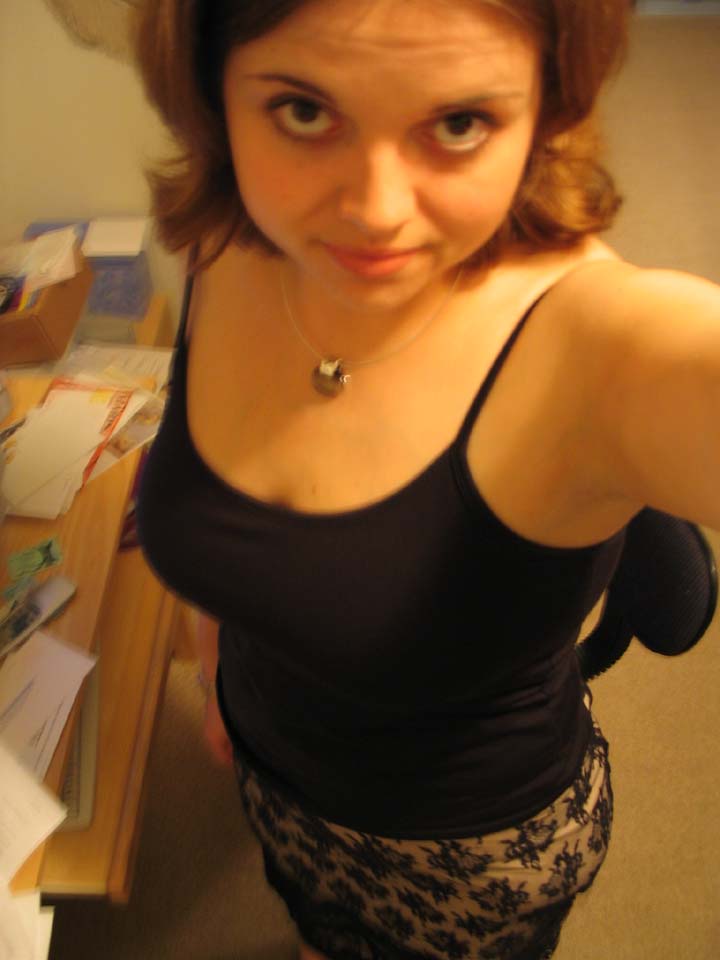 I went and saw Pilobolus tonight - AMAZING. Makes me wish I could move like them. Wow. I want a body like theirs as well. Ah well - curves it is.
Tomorrow I leave for Austin! Yay for a mini road trip with Christy! I've been look forward to this for over a month now.
I am ready for a couple of days back home, back in Texas, back with Austin. *sigh*
OH - I saw Scott Wolf tonight at the Arts Center - see... Fayetteville is cool enough for Scott Wolf!
I don't have much to say tonight.
Ummm... gotta go pack.

Nini.

9.20.04:::i missed my calling:::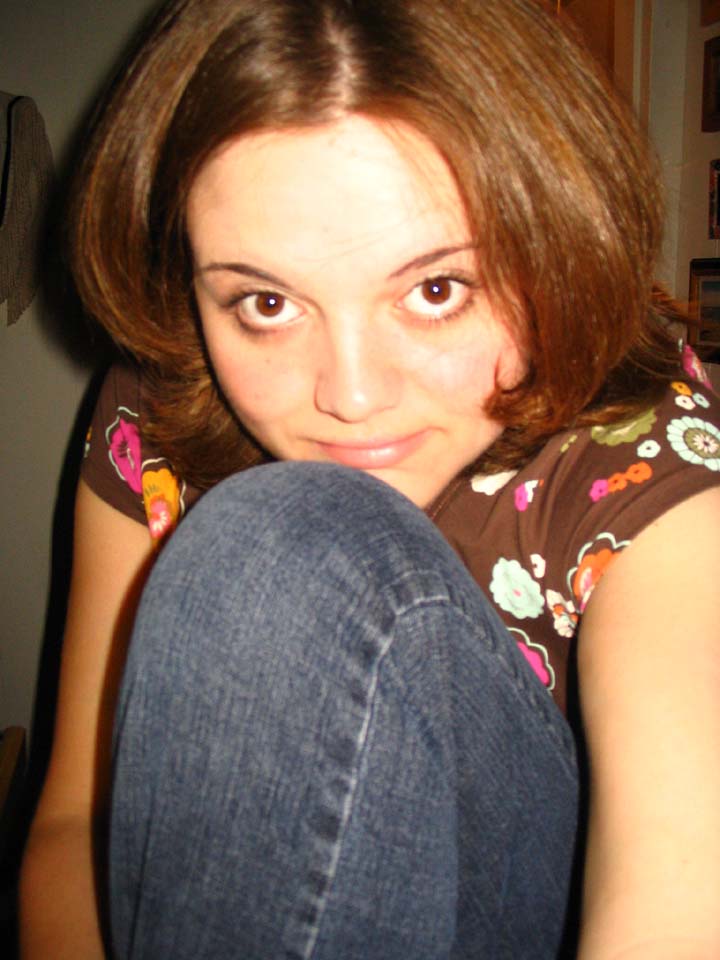 Tonight I made chicken enchiladas - yeah, from scratch. I didn't even have a recipe, which I was slightly worried about when I started (fear that they might not taste as imagined and such). However, after 45 minutes of toil away above my little gas stove/oven - I was left with 12 of the most magnificent chicken and blackbean enchiladas. Yummmm! Plenty for all. I'm finishing it off with an equally yum dessert. Fun times in the kitchen tonight. I think I'll spend the rest of the evening relaxing over a magazine.
This past weekend was spectacular. On Friday I went to the Glen Campbell concert (I enjoyed it more than I thought I would!) and then off to Dickson to meet up with BJ, Ryan, Kendra, Tony, Chris, and some other folk who I just met for the first time on Friday. Even though half of my martini was spilled (just when it starts to get good) it was still a GREAT time. I was met at the table by Kendra who had a shot ready for me (Purple shooter?) It's really nice to have some friends up here that are fun to hang out with. We ended the night at Denny's. It's funny - I didn't have a group to do that with in college (I had lots of friends that like to go out, just none that I would want to go hang on 6th with), I move to smalltown USA and find a GREAT group to hang with.
Saturday was a day with BJ in the Boston Mountains. We hiked down and back up a mountain, saw some Native American carvings, sat on rocks, walked through spider webs, and just had fun. I heard that Saturday was the hottest day we've had this summer - I don't doubt that. I was hating life for a few minutes while coming back up the mountain. We then did the whole "get cleaned up and go to town" thing.
50 First Dates is a cute movie... if you haven't seen it, rent it. I recommend it. It's silly Adam Sandler stuff but quite cute indeed.
On Sunday I did the weekend errands thing. Washed the car, spent money at Wal-Mart, ummmm... cleaned up a bit around here. That evening, BJ and I went to Kendra and Tony's to cook some Asian cuisine, drink wine, and watch "Dead Like Me". What a GREAT show. I'm hooked. Too bad I don't have Showtime.
Anyways - after that play by play, I must just conclude that I had a GREAT weekend.
Today it was back to the "omigawd SUCH and SUCH is coming in two days and we don't have transportation booked for them yet" kind of work week. Someone send me some love, I'm going to need it by the time I hit the skies for DFW airport on Friday. At least I have Alumni Band stuff to look forward to.
Peace.

Pictures from Saturday
9.16.04:::breaktime anyone:::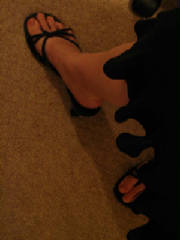 Steve Madden shoes = good

So far today has been one of those days that can only best end with the ordering of a pepperoni and mushroom pizza and the consumption of at least two Woodchuck ciders. Not that anything bad happened today – but today was the day I found out that the work I have to do tomorrow has tripled. It might be one of those "start the work day at 7:30 and end it at 10PM" kind of days. The Glen Campbell concert isn't the part that is really getting me, it's the NASO part of it. I didn't know I was going to be doing their hospitality, and as SOON as I found out, I also got a call that all of my expensive coffee cups were gone. Who knows who has been using them (not that my average reader cares) but this only means I not only have to go play the Wal-Mart game tomorrow, but I'll also have to play the Sam's Club game. The Wal-Mart game is okay – however, the Sam's game requires that I drive 7.5 miles in bad traffic and stuff boxes that don't fit in my trunk into my… trunk (figure that one out) and drive 7.5 miles in the same traffic back all to make it to work in time for a tour. Oy! Gotta love it. Actually… I thrive on it once I get going, but it still will call for pizza and ciders tonight.


I did finally get my check from the University of Arkansas bands today (payment for the newsletter). So that is a nice addition to my savings account. Perhaps I have margarita money for my trip to Austin next weekend J So maybe that pizza and cider will be in celebration of that!

I've decided to go camping this fall. I'll have to come up with a tent, but I've never been camping in Arkansas and I think this fall is as good a time as any to camp it up in the hills. Any locals know of good camping places around these parts? Is Devil's Den even open to camping after last spring's flooding?

And speaking of flooding – how about that Ivan eh? On that note, I'm outta here.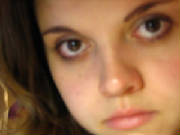 evening update: when was the last time i cried before tonight - when I thought Schmoo had gotten outside and lost before I moved up here? I can't remember. I don't even know why I layed there and silently cried. I didn't think I had that in me today. It was weak really. I didn't think I was that weak anymore.
At least someone from the past still thinks I'm cute (if not cuter than I used to be) - that made me feel good. Talking to him made me really miss friends I haven't seen since Chris' funeral. I need to get back home and visit people. I thnk I'll make that a priority. People there seem to miss me.

...and you were someone who could always tell me things I don't know, and tell me where to go, and there I always go...
9.13.04:::and it starts:::
tomorrow I start back on Weight Watchers. I have a long enough break since I moved up here and it's time to lay off the oreos and Smoothie King and get back to being healthy (no - smoothie king is NOT healthy - don't convince me it is).
I've gotten used to being a smaller size than I was for the past few years and now that I'm used to it, I'm ready to aim for the size I was in HS (it's just the next one down - I can do this). Anyone for some moral support? Anyone in town wanna walk/jog go find an eliptical with me? Anyone... anyone at all?

So this early morning today really killed my brain. I didn't function at all today. Hopefully tomorrow will be better. And on the "functioning" note, I would feel much better about myself if I could find something to do with my evenings. I'm going to start looking into volunteering at the animal shelters, or finding some class to take at night (since my pottery thing didn't work out). I just get bored at night and end up napping or sitting at this thing. I've really done all of the projects I have room to do at this apartment and it's time for other things. I shall start a list of things I can do:
1. Make that fleece blanket I bought stuff for in May.
2. Make those shirts I bought patterns for in May (no fabric however)
3. Finish fancying up my computer - anyone care to help?
4. Relearn to knit (since I have forgotten since two years ago)
5. Finish that stocking I started last November
6. Make something to hide the hole in my bathroom wall.
7. Start making Christmas presents for friends and family since I'll be as broke at Christmas as I am now.

Okay - so that list should get me started, but I still feel like I'll need to get out and do something. Ideas?

Well - I'm going to put up the oreos (since tonight was my last night to eat them without feeling guilty) and brush these teech of mine and head to bed.

Bon nuit.
9.12.04:::and the little piggies fell:::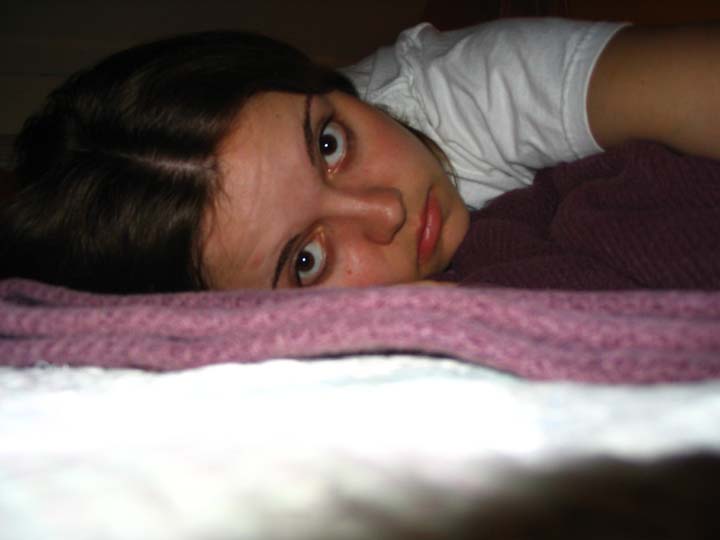 So - the Longhorns might not have played their best game ever yesterday, but at least we didn't screw up a win. Not only did Arkansas "give" us the two points we won the game with, but they also screwed themselves with the lost chance at a field goal which would have won them the game. So - too bad Razorbacks. Payback hurts I'm sure. The best part were OUR fans partying on their turf with our band playing and playing and playing. I love Longhorn Football. I really love the fact that my mom and I had bet dinner on the game and we aren't talking some crapola dinner at Taco hell. Heheh. Yay for that. I get a free dinner!

I've decided something - I'm better than an old toy at the bottom of a toy box that get's pulled out and played with every now and then. Maybe I'm better than all the other toys. People never really know those kinds of things until that toy is gone.

I need to iron. Le sigh to that.

Since I have to wake up and be at work at 6AM in the morning, I think I'll call it a night.



Two weeks and counting. Hook 'em.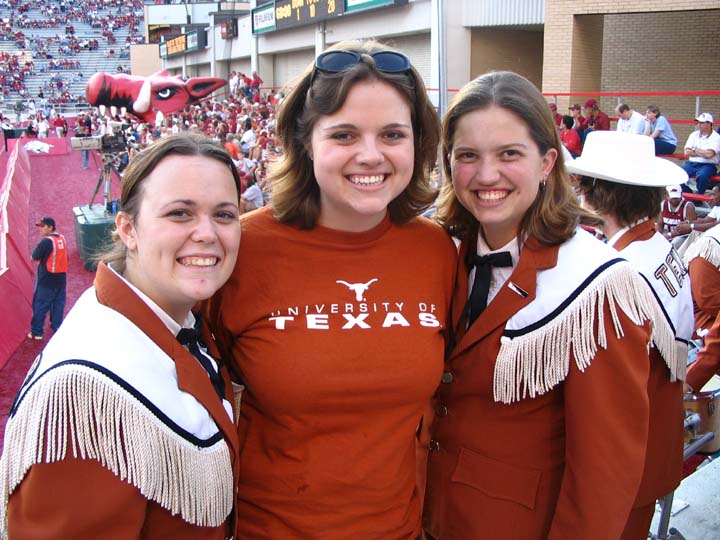 Melodie, Sara, and I at the game - yeah - we're that cute.
9.9.04:::sick days:::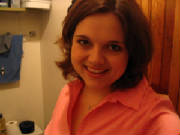 So I didn't work today. No voice really. It's hard to work if you can't talk. So, I sat in bed, went to wal-mart for some medicine, and sat in bed some more. My mom did come save me from my boredom this evening. We got dinner and drove around town looking for some houses for sale. I found one I want. However, I don't see $197,000 house in my budget within the next few days.
'Tis only 2 days until the game. I'm quite excited but a bit apprehensive all at the same time. I'm certainly not leaving my car in town that evening. You always hear of rampages and overturned cars after games; and the Razorbacks are really holding this game as their biggest of the season. Wal-Mart even has "Beat Texas" shirts for sale. What is this world coming to... really? I cross my appendages for a win on Saturday night. It would suck, and I emphasize suck, if Texas loses. So... hook 'em and such.
So - my pottery class was a bust. It filled up so I couldn't get a free spot. But I can go to the open studios on Saturday morning and learn how to do some pottery there. So I think I'll take them up on that offer. I would have rather had the class, but oh well.
That's all the mundane information I have for you this evening.
Nini.
9.8.04:::sniffly sniffly:::
It's typical, really, that the weather turns amazingly beautiful and I get sick. Doesn't this happen every year at least once for me? I think it does. I take my vitamins, eat my fruits and veggies, and get plenty of sleep, and still, once a year about this time I get sick. Joy of joys. It could be worse – a cold I can live with, it's pains I can't. So this cold is not all that bad.
Yesterday might have been the most hectic day I've had in quite some time. Although, I can't figure out if it was as bad as it seemed or if I was just not with it due to my incoming cold. Everytime I was on the phone, I had three other calls coming in… everytime I went to run an errand (all of which took place OFF of the WAC grounds) the phone would ring 8 times… everytime I finished a project, another one was thrown at me! I haven't been busy like this in ages, so I'm just not used to it. I suppose it will come back to me…. Hopefully it will come back to me J
I worked some more on my restroom last night. I got the blue paint up. I have a few touchups to be done, but at least it looks marginally finished. I just have to do the floor sometime, but for now it looks good. Perhaps I'll post a picture later today so all can be impressed with my painting skills.
It's official, Fayetteville is getting cooler by the minute. There is a Wing Stop open at Crossover and Mission. YES INDEED. Wing Stop has my favorite wings and now I can go partake in some tastyness and messy fingers. YAY. (note: I get excited over chain food)
Well, this is quite the boring post. Perhaps my days will spice up as the temperature cools off.
3 more days – hook 'em.
Afternoon Update: Okay – so how is this for some spice? Starting tomorrow, I will be taking a beginners wheel class at the art studio associated with the Walton Arts Center. Yay! Pottery all over the place.
evening update: don't act like you care if you don't really care. I have enough to deal with otherwise.
9.7.04:::Barenaked for the Holidays:::
Release date: October 5th (and I cannot wait!)
9.6.04:::so right now:::
...my eyes are so wide/like you reached right into my head/and turned on the light inside...
I have to say - this was probably the best weekend I've had in quite some time. A recap, shall we?
Friday: got off work a bit early, came home, napped, got my freezer door fixed, got my banister fixed, BJ came over and we laughed and smiled and had fried okra (yummm) and then we went for an evening drive around Fayetteville (went up to look out over the city at night and make fun of people neckin' and to comment on the Methodist commune that sits atop Mt. Sequoia) and then went for Shakes and then washed my car. Fun times.
Saturday: Farmer's market, hang at my moms with my brother, his girlfriend, my mom, sister, future brother in law, nieces, and of course BJ. We cooked out, we ate too much, and we sat around. That night my two nieces came over to hang with me. We watched movies, they ate pringles, and we slept. Life was good.
Sunday: Off to Bentonville to hang with BJ and his friends. More cooking out, some viewing of tennis, some chatting, some Office Space, and some Keith Izzard (funny funny stuff). The entire day was spectacular. Never have I felt so comfortable around another person's friends as I did yesterday (well... other than Chris', but his friends were my friends as well - so entirely different situation). I hope to spend more time with all of them as I had a great time. I really must say, all of this is much more than I expected *grins*
Today was an outting to the Clothesline fair with my mom, sister, Rick, and nieces. We looked at crafts, pet puppy dogs, listened to some great blue grass music, had funnel cakes, and just enjoyed the outstanding weather.

What a weekend. Too bad it's over, but I do have Saturday to look forward to (hook 'em)

Bon nuit.



9.3.04:::my heart goes out:::
9.1.04:::happy erin:::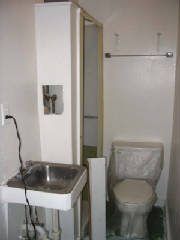 ... let the renovation begin ...
I just want to thank everyone who left friendly messages via AIM last night. There is nothing better than to wake up knowing that yes indeed, you were dreaming of me last night. Happy Erin. Oh, and another happy Erin thing is the fact that Miss. Evelyn will be making the treck to Fayetteville next weekend for the game. YAY. Add another friend to the list of people I'll be seeing. No time for random road trips to Oatmeal, TX (was that the name of the town?) but at least I'll get to get a "hello" in.
I feel much better this morning than I did last night. I was just in a funk. I hate funks. I woke up this morning all happy and in a good mood! The weather was perfect, I wasn't sleepy, I had a smile on my face… perhaps I just needed sleep (or those nice messages left on my computer). At least some people out there care enough!
To touch on this "funk" issue – I think some of it comes from not knowing what I want RIGHT NOW. That frustrates me. I've always known what I want. Do I want someone who will call me and say "helloooo" and who will surprise me with a flower and who will leave me sweet notes in my email box or on my windshield? Or do I want someone to have a good time with but none of those perks listed above? Bah. I suppose I didn't' think I'd find anyone that interested me up here… and now I have found that person. It broadsided me a bit on Friday night when I realized that. Funny how that happens.
Kansas City RenFest anyone???
- inquire within
I found this posted on another websites message board - I found it interesting on this Wednesday morning "The intelligentsia tends to be liberal. Researchers, scientists, educators, inventors....most tend towards the left. Einstein, Oppenheimer, Hawking, Greene, Feynman, etc.....left and liberal.

Who supports Bush?

The right.

Who is on the right?

Rush Limbaugh, WWF and Nascar fans."
Texas vs. UNT – 6PM on Saturday. Too bad it's only on PPV L
8.31.04:::Life in order... as we know it:::
Work is pretty mundane today so I had plenty of time to sit here and think about things. This all came about from a request of my sister to pick up my niece when she lets out of school this afternoon. Of course, I'll be happy to do this today. However, it left me thinking about how stressful it must be to have to find last minute after school arrangements for your 10 year old. This is why I am DEAD set on trying my best to have everything as settled as possible when I have kids. I will have worked a few years, have a good job under me, be married to a husband with the same… you know, the idealistic dreams of a young woman I suppose. I wish I could help my sister out more than I do, but I just can't. Not with a new job, one where I'm trying to impress everyone enough to keep me longer than a year and to give me that raise at 12 months. Heh, I suppose I really look to the future more than most. Keeps me from getting bored with where I am now… or at least that is what I tell myself.
I officially bought the tickets to the Texas/Kansas game this morning. I am dancing in my chair just thinking about that. I'll be a "regular" fan and won't have to watch myself in uniform as I have had to in the past! Praise the NCAA Football Gods for that. I'm sure it's a bit chilly in Kansas in November, so it will be PERFECT for football. Maybe I should start countdowns to the football games as I did for my BNL concerts. SO – 11 days until the Texas/Arkansas game, 25 days until the Alumni game vs. Rice, and 74 days until the Texas/Kansas game – Hook 'em.
My brother, his girlfriend, and his son are coming into town this weekend. I'm really looking forward to that. I'm excited to meet Michelle (the girlfriend) and really looking forward to seeing David and Zach. I haven't seen little Zach in well over a year and a half and I miss the little dude. I really hope to introduce BJ (the nice gentleman I took to the jazz concert over the weekend) to my brother. Since my mom and sister liked him so much, I am thinking my brother will too. Speaking of BJ, I've been invited to a cookout that his friends are putting together on Sunday. I really hope to get to know them better without the three martinis this time. Oi. Never again. Anyways, I'm really looking forward to that J
Update 9:12PM - it's official - according to some guy passing by my window while I was cooking I must be the best cook at this address. Or it was more like "mmm... you must be the best cook here". Amazing what some pasta and freshly sauteed spinach will stir up
*grins*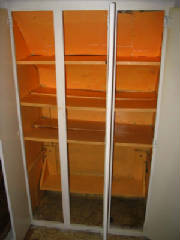 Here's a picture of what I accomplished tonight. A clean and painted pantry. Thank you thank you. Hold your applause until later.
And on another note - I hate the mood swings that come with being a girl. One minute you are high as a kite, the next minute you are slumming along the bottom all sad about something.
I need a cider.
8.30.04:::FOOTBALL:::
Okay – so here's the deal. We'll play this game a lot like the game for the Barenaked Ladies tickets last march. Tickets are still available to the Texas @ Kansas game on November 13. I'm going to hold auditions for whoever would like to accompany me to the game. I think that is fair. Impress me enough, and you can go.
The deal is this - Around $38.00 for the ticket and I'll drive you to Kansas to go enjoy a cool, November, football game. Any takers? I'm not waiting until last minute on this game, so let me know now if you are up for the game.
Time is ticking…
UPDATE - I have a winner, thanks for playing.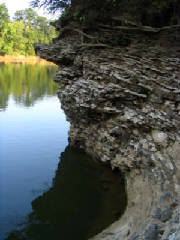 here's a nice shot of the bluff below my grandmothers/mom's house that I took a couple of weeks ago.
And now for my real post of the day:
I came home from work today - all motivated to get my bathroom looking good. However, that turned into a disaster! The mildew wouldn't come off, so I decided to go ahead and paint over it with kilz, that was fine until I decided I had to get paint over that because kilz is ugly. Okay, the red paint I LOVE on my dresser is not a good paint for the bathroom. It's a disaster. I don't even want to think about it.
Aside from that adventure I've been feeling kind of down all day. I don't exactly know what it is. I feel like sitting down and crying although I have nothing to cry about. I think I shall retire early tonight with my Harry Potter book and my Schmoo.

*sigh* I need some cheer.
8.26.04:::Cider and all things HOT:::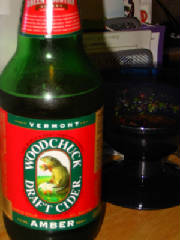 Thank goodness for Barbara on a night like tonight. I was wanting some salsa - and not Northwest Arkansas Salsa - but good, hot, Texas Salsa. She had the recipe, I didn't . So hence the thank goodness part. There really is nothing better than salsa that sets your mouth on fire. MMMMMM. Oh, and to accompany that, a nice Woodchuck Amber Cider. That also deserves an MMMMM. I am sure that the tomatos I got up on the square today really helped out the salsa a TON. Nothing like vine ripened tomatos to tickle your taste buds. I am absolutely going to go broke because of the farmers market. You can't walk around it withough buying a bag full of produce. I do have good intentions to cook it all... anyone up for fried okra? :)
I'm so happy tomorrow is Friday. This weekend is really looking like it's going to be great! Possible bowling tomorrow (however - as of right now it's 10PM and I don't know what's going on with that - I might find something else to do if we aren't careful). Jazz and Shakes on Saturday (mmm... custard). Sunday is the city wide picnic. Fun times... fun times.
CONGRATS TO BARBARA ON HER JOB!
Okay - that's all for now - just wanted to brag about my salsa.
8.25.04:::yeah, I'm that cool:::
My new kitchen!!! Woohoo. Yeah, it's that cool.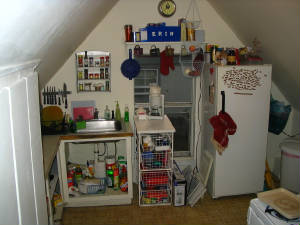 8.23.04:::sleepy sleepy me:::
I'm all moved into my new, very cool, and very all mine apartment. I still have the scattered boxes, but most are unpacked and I'm just waiting on getting some storage space put in (plastic bins, shelves put up, etc). I cannot express to you how much I love my place. So far I seem to have a place for everything. I'm quite shocked about that. I thought I was going to have to take a TON of stuff back to my mom's for storage, but it doesn't look that way. I've even cooked a "real" meal there. By real I mean not one of those frozen "just add water" things. I made brunch on Sunday. Yay for my gas stove and it's super fast heating of my cookware.

The move in was relatively easy. The bed went right up (took a few people to hoist it up the stairs, but it didn't get lodged). The bed was the main concern – so no worries. It did take all morning and half of the afternoon, but we took a long lunch break and many water breaks, so in reality it was a quick move. So, if anyone cares to send a housewarming gift my way you can find my wish list on Amazon.com *hint hint*
All in all this weekend was spectacular (and I'm not just talking about the move *grins*)
I think today has been a bad start to my week. I attempted to wake up this morning, but I don't actually think it worked. I've been so tired all day and no amount of coffee or Dr. Pepper seemed to put a dent in the grogginess. I really want to go home and take a nap after work, but I need to go pick up my microwave, tape measurer, and power drill. Anyone care to road trip it out to Goshen for the evening? Yeah, I didn't think so. I just hope Saturday gets here soon enough. It is the start of our season at WAC (Walton Arts Center). The Greg Osby Four are opening the season with a jazz concert and I've invited a very nice gentleman to by my date for the concert. I hope it's good jazz… for his sake.

Well – I'm going to in search of some VERY strong caffeine to make it through the afternoon on. Toodles.
8.17.04:::Ruby Tuesday:::
Ah - this football season as really worked itself out for me. I obtained (at no small price mind you) two tickets to the Texas/Arkansas football game on Sept. 11 up here in Fayetteville. My mom and I are going in all of our grand glory. I'm really looking forward to that game. AND - Christy and I have planned to road trip it down to Austin for the Alumni Band weekend. YAY for fun times. We're gonna get a motel room down there and chill. I can't wait for that. I was telling everyone at work about it today. I'm such a nerd. *jumps for football happiness*
On a COMPLETELY different note - I actually sign the lease for my apartment on Friday. YES, actually sign that guy. Amazing, I know. My future neighbor says the place looks great and she's jealous! Yay. I have the moving truck for Saturday and Sunday I'll spend sleeping in, making an omelette perhaps, and unpacking some boxes (gotta do some of that I suppose - I hope I don't get distracted).
The past two days at work have been quite busy. I feel like I'm doing important stuff. The season must be getting underway. It starts on Aug. 28th with the Greg Osby quartet. YAY for jazz. I'm quite excited about this season, have I mentioned that before? I can't remember and I don't feel like going back and checking. YAY for my job and it's perks.
OH - speaking of perks. I got a HUGE blue crayon to decorate my office with today. It's about 5 feet long and eventually I want to hang it from the ceiling. It's great. Lesson learned with the crayon - ask and ye shall recieve.
So - an update since the last time I posted - this weekend was great. Friday I went to 4-14 after work with some of the "cool kids" at work. That was fun. I love the people I work with. After that was some tasty yum Japanese food at Shoguns. Fun times. Saturday was even more fun. I picked up a friend and we went to the Grape Festival (which sucked - I can only handle so many Confederate Flag shirts on display) so instead we went to Eureka Springs for some lovely sight seeing and Jesus visiting (yes... the Jesus for those of you who were here for convention last spring). We ended the evening off with UHF. Weird Al is... well... weird, but entertaining. A very lovely time was had by all *grins* Hopefully more lovely times shall be had by all.
WELL - it's late - I'm sleepy - work is kicking my patoot so I better be rested before tomorrow starts. Night all.
"You were almost kind
You were almost true
Don't let them see that other side of you..."
Guster "Either Way"
8.12.04:::cool:::
What is up with the weather? Wow – still in the 70s and it's AUGUST! It won't get back to up to 80 until Monday. I wonder what the winter will be like or if this summer will even affect it at all. Crazy beans.
So I've been doing a lot of thinking about a short-term goal. Basically, where do I want to be in 3 years? Toronto is still a possibility, but for work, not school (it's high on my list). Now the Philly area has made my list, DFW, Austin, Northern CA (San Francisco, Marin County, those places), and where ever else sounds cool. Basically, I want to be in a big city (or Austin) in the next few years. I've been looking at apartment sites from all of those places just trying to get a feel out of the places I'd be living. Living expenses will be a HUGE part of my decision when I start the job search up again in a couple of years. I'll have to have enough to live on, pay student loans on, and save. I refuse to live paycheck to paycheck (so that will be a large determining factor for me).
3:33 pm – you know you're desperate for a ticket to a football game when you email your old band director begging him for a chance to work with the band that day in order to go to the game. Hell, I'd serve water and carry crap for a week to go to the Texas game on Sept. 11. I used to do it all the time for free J
My story from lunch – I go to meet my sister at Panera for a tasty yum sandwich and soup. Afterwards, she has a flat, so I offer to give her a ride back to work. On the way I stop for gas and proceed to leave the cap off and sitting on the trunk of my car. When I drive back to get it I watch as a car runs over it shattering it into a million pieces. GREAT. So – moral of story – don't meet your sister for a last minute lunch at Panera . Suggest McDonalds or Taco Hell instead. Looks like I'll be taking a field trip to Auto Zone after work (I needed windshield wiper blades anyways).
8.11.04:::je suis fini:::
I am FINALLY finished with the Razorback Alumni Band newsletter and hopefully I'll have the payment for that sitting in my bank account! I think the format turned out great and I'm really quite happy with it. I used MS Word, so I was a bit worried about the quality. However, if you know your way around Word, you can make some things look quite nice. So congrats to me for finished that on schedule and I think I deserve a beer for that.
I went to see my apartment yesterday and just happened to be there when the guy who is fixing it up was there. He let me pick out which carpet they are going to put down. Yay for perfect timing. They are putting up dry wall everywhere (over the new insulation) and painting everything. Also they are trimming all of the corners and such. YAY for that. I'll still paint it up with my own colors, but now I won't have to do it so quickly to cover up the old, ugly stuff. I can wait and let the color inspiration come to me. It looks like the former residents left a very nice mirror and their dining table in the place. I might just claim those two items as mine (especially that mirror!) I should be able to get my big stuff moved in on Sunday the 21st and I'll hopefully get the small stuff in the day before that. Any volunteers to help me move? If you bring strong, male friends with you that will be even more swell :) I have a feeling my original helper is going to fall through. Oh well.
Well, 'tis late (much later than I usually sit at this thing) and I have work tomorrow so I must be off to bed.
Adieu.
8.9.04:::'twas good:::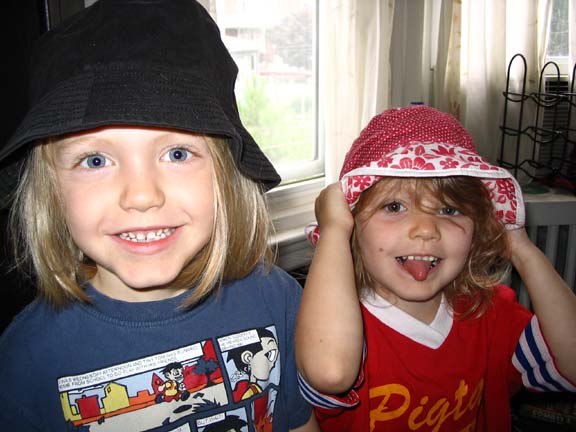 Wilson and Elliot (aka - the nephew and niece)
I could not have asked for a better weekend.
Start the trip out on Friday.
I woke up early to get to Philly by lunch time. My brother and I hung out at a bike shop and then to get a burger and a beer (I opted out on the beer though). We then had a whirlwind late afternoon/early evening of moving a bed into his place, picking up his kids, and getting them to bed, having a beer (this one I drank) and some frozen pizza. Fun times on Friday. It was so great to get to see my niece and nephew and just chill for a day.
The next day we woke up early and headed up to the Poconos (Bushkill Falls to be exact) for a day of hiking. On the way there we drove through a TON of cute towns (those cute newengland towns with those old barns and such). The highway we took followed the Delaware river up to the Poconos and the drive was beautiful. The hiking was just as beautiful. There were waterfalls and trees and rocks and the air was cool! It was a perfect Saturday with my brother, niece, and nephew. Afterwards we had Latin food in Straudsburg and drove back to Philly (I'll skip the part about the tire blow out, although, that was quite exciting as well).
Sunday was spent getting the tire replaced and feeding ducks.
Sunday night, however, was heaven. It was the Barenaked Ladies concert at the Mann center in Philly. What an outstanding venue and an equally outstanding concert! Even the Alanis Morisette part was good (she is my new girl crush - she's cute with her shorter hair). But back to BNL - they opened with "Brian Wilson" and so it was just Steven Page on stage to start *drools* ... That man is amazing. Okay - enough gushing - I'm getting sad just thinking that it's over.
Today I came home (kind of a let down after that trip - but I'll get over it). I wouldn't mind living in the Philadelphia area. It's more fun than I remember from past visits.
Tomorrow I start back to work (yay for a cool place to work, boo to going back to work - does that make sense?)
Hugs and puppies to all - I must be off to unpack now.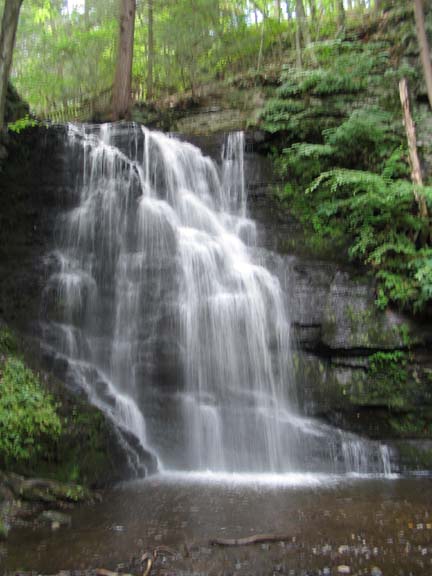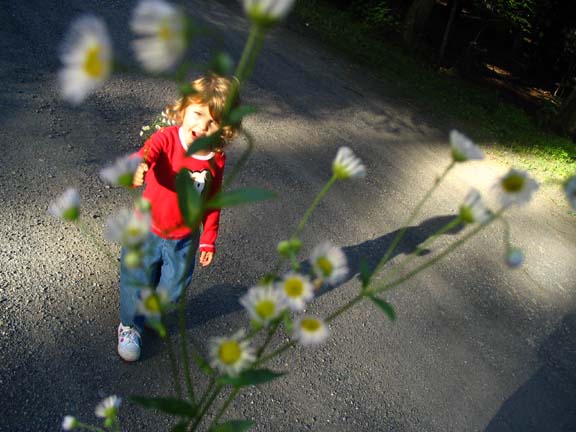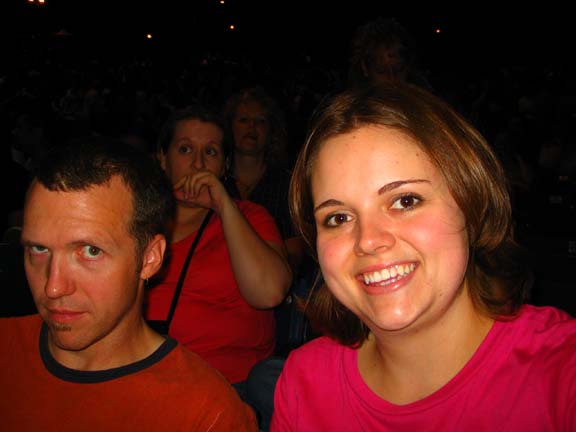 Three pictures from my trip - Bridesmaid Falls (@ Bushkill Falls), Elliot behind some flowers, and my brother and I at the BNL/Alanis concert - guess which ones are which? (it's not that hard - give it a shot!)
8.3.04:::it got hot outside:::
nasty hot in fact. When is the fall gonna get here?
Word from Philadelphia is that it is supposed to be gorgeous weather while I'm visiting. Yay. My brother thought we could go with his kids to the Poconos and hike. I've never been there and I LOVE hiking. So hopefully that will work out. I'm just really looking forward to getting out of here for a few days and just relax and do whatever. It will be a much needed vacation.
Here is the latest on the fiasco that is "erin moving into town" Once the managers of the apartment FINALLY got into the place they realized how torn up it is. SO, they are going to go in and fix it up (tear up old carpet and put down new stuff, put some wall board up where someone patched something particle board, and some painting). Very nice. I can't complain, but I do want to get into the new place. At least the deposit is on it and it is mine. However, who knows when I'll be able to move in now. At least I'm over halfway finished with packing so I won't have to do that last minute (like I thought I have been doing this week).
My first hospitality job at work has gone off beautifully. I supplied the food and organized the catering for the AWE institute here at the Walton Arts Center. It's a week long event and so far people love the food and snacks we have provided and we haven't run out of anything. So yay! I've accomplished my first big task. I'm glad this event is almost behind me though. It's been stressful running to Sam's and Wal-Mart to get all of the stuff they needed. I've brought in TWO full car loads this week alone. That is a lot of food. Granted, I have a small civic, but still – a LOT of food has been going into that event. (Yes, they pay me to go to Sam's and shop!)
So, I've been thinking about where I want to go after spending a few years here. If I decide to leave and move along I've been considering the North East, Northern CA, or back to Texas (DFW area or Austin). Any input from the peanut gallery? Any? Oh, how about Toronto for work instead of school? That could be a possibility as well. For now I'll enjoy a place that caters to four seasons (hot, red/orange/yellow leaves, snow, COLORFUL springs), small mountains, wonderful atmosphere, and cheap apartments.
Now, all they need is a new mall (with a Nordstrom's shoe dept) and a HUGE movie theater that isn't 25 minutes away J I'll be set then.
7.31.04:::and I'm learning that:::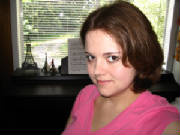 ... I wouldn't want it any other way" BNL - "Life, In A Nutshell" 1994
Yesterday was quite an interesting day. I was driving around in the afternoon and just started thinking about Chris Elder out of nowhere. I haven't thought about him in AGES. I got quite sad about everything. I don't know why. While I was quite upset about him and pissed at him and soooo tired of the way things were going when I broke things off with him, I never had time to fall out of love with him because I jumped right into another wonderful relationship. I think that is part of my problem sometimes. It's just frustrating that we can't work things out and just tie things off because he is gone and will be until I too am gone. I hate the way the world works.
Also I was thinking about how much I've enjoyed being single lately. I didnt' enjoy it a few months ago, but I am now. I don't know why. I enjoy being free, not having someone to tie me down. I enjoy being able to talk to whoever I want to and not feel badly about it later. I also enjoy going out with different guys and learning what I like in a gentleman. Someday I might find that perfect person and I'll settle down perhaps, but in the meantime I'm enjoying being in a new place and being quite single! Amazing how attitudes can change like that.
I went to see Harry Potter and the Prizoner of Azkaban yesterday! Good movie! I enjoyed it thoroughly. I think I shall start reading the 4th book next week. There will be NO time for reading this week. Just packing, moving, unpacking, packing for Philly and off to Philly I shall go. Only one week until BNL! *giddy*
On that note I shall go play a CD and get ready to go for the day.
7.27.04:::complete lack of motivation:::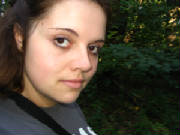 I go to work all day and come home to be completely drained of ANY motivation to do all of the things I need to do. Namely - the Razorback Alumni Band newsletter. I need to finish it and I'm just not feeling it. Also I need to start packing seeing as how it looks like I'm getting into my new apartment in a week. Ack. Too many things to do and no drive to do 'em. Suggestions anyone?
The packing really can wait I suppose - but that newsletter can't! I need to get it finished before August 10th, and I'm going to Philly on the 6th so blah! It will come eventually.
The intern who works with me in my cubical pointed out that there are only 5 months left until Christmas. What good news! I think it's about time for some celebratory Christmas music in July. I know I have my Trans-Siberian Orchestra CD around here somewhere *searches*
Is it strange that I had pizza for lunch yesterday, a slice at dinner (but it was small), pizza for lunch today and I would really like some pizza for dinner again? I don't know what has come over me. I can't seem to get enough pizza! Yum.
I'm rambling and the things I'm saying are COMPLETELY pointless so I shall spare you from more words to read.
Until next time...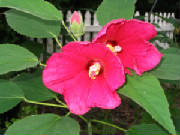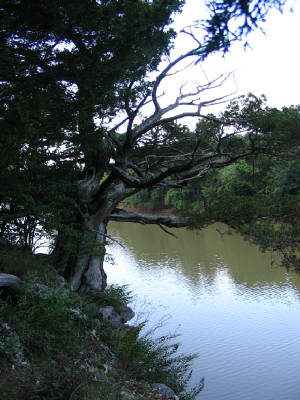 pictures from yesterday's hike in the woods
7.26.04:::What happens at an Iraqi Sovereignty party:::
Since I'm never political on this website - I figured at lease this link was allowed.
I was entertained...
enjoy.
7.25.04:::it takes one to know one:::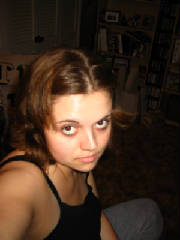 Wow - what a perfect day. It's been about 63 degrees all day and I could not ask for a better mid summers present. It's a perfect "fall" day outside. Too bad it won't last long. I have enjoyed it by wearing my sweatshirt around and sitting under my fall/winter blanket and watching tv. How perfect this Sunday has been.
So - tell me, how would I know if a guy is interested in me... or finds me attractive or whatever. I really am at a loss on this one. Do they come out and say it? Do they try and sit closer to you? brush their hand up against yours? What??? I was just curious. Being a girl who doesn't make the first move, doesn't make the first comment, doesn't so much of anything "first", I just wouldn't know the answer to that. Argh... guys.
I saw the Bourne Supremacy last night. It was SWELL. I really liked it. I'm looking forward for the 3rd one to come out in a couple of years.
I really don't think I have much else to say. I'm kind of in a mellow mood today because of the weather so I might go back to sitting under my blanket and reading.
buhbye now.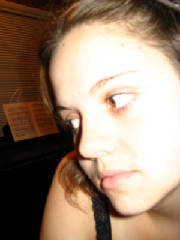 7.23.04:::a day for funky shoes:::

I'm sure I'll get used to it eventually, but $200 for benefits and taxes EACH paycheck is still quite shocking to me. It's a bit more than I had planned when I did a budget, however, I would NOT trade that for no benefits. Benefits alone are more than that if I had to pay for them myself and so I suppose it really isn't that bad. Someone please reaffirm that for me.

I turned in the deposit for the apartment yesterday. So, technically it's mine even though the lease hasn't been signed yet. Hopefully I'll be able to get my stuff into the apartment before I run off to Philly for BNL goodness. However, I don't see that happening. I'll just have to wait and see when I can get in there I suppose.

I've found a new friend. Ever since I started drinking coffee, I've put cream in it. What was I thinking? Yesterday I left the cream out and wow. Quite good, and MUCH better than the creamed down version. Yay for black coffee. It also keeps me awake. I still am not an expert at these 8AM work days. It will get easier, that I know. Coffee and Kronos quartet music shall keep me awake for now.
And speaking of Kronos, they are coming into town in November for two performances. One here at the Walton Arts Center and one acoustic one at Cooper's chapel (which is a chapel designed by Faye Jones settled out in the woods and is mostly made entirely of windows. It's gorgeous and to get to here Kronos there… I cannot wait. I loved them live at UT in the Bass Hall and I'm sure I'll love them live here.

Yay. That's it for this morning.

7.20.04:::note to self:::

Just because you work right across the street from a restaurant that sells DELICIOUS java shakes does not mean you must buy one 4 days out of a 5 day work week.

Man. I need more self control.

7.19.04:::manic mondays:::

Does anyone else feel like Monday is the longest day there is? I really hope I'm not alone on that one :)

I took the rental application for the apartment by the management office today. Hopefully that will get approved and all will be good to go. There is lead paint on the walls of the apartment I learned... so... fun.

Okay - I know a few of you have talked about coming up to visit me (yay, people love me). Go here

www.waltonartscenter.org

and see if there are any shows you want to see during the time you might be up here and I'll get tickets.

Only 20 more days until BNL heaven. Yay.

Buhbye.

7.17.04:::happy dance:::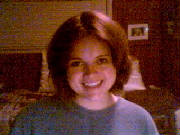 it's my "and finally, a picture" face
After looking at a few apartments that are around town (affordable ones that is) I've decided to go with the "fixer upper" in the old house. I'm going to be much happier in that location than in the other locations of apartments I looked at today. It also has more character and scary white trash people with no teeth in their head won't live next door to me (I ran across some of that today). The lease supposedly starts on August 1st so hopefully I'll be able to get it signed and be able to get in there that day to start some painting (yes I can paint it!) and such. I hope to be moved in before I head off to Philly for the BNL concert - but if I'm not, I'm not. No big deal. I have so many ideas of things to do with the place and I'm going tomorrow in search of "oops paints". You know the kind... the ones that Home Depot messed up and sell for $2 a gallon. So all will have to come and see it if they are ever in Fayetteville (which I know some of you will be for the UT game on September 11th). I'm mostly excited about getting my kitchen stuff out and using it again. It's just sitting in boxes - that makes the culinary nerd inside of my quite sad. Schmoo will also be quite happy - no big, bully cats to beat up on her. She'll have her own place and her own windows to look out of .
Now I have to pack up again *ugh*
This morning I went to the local Farmer's Market. I bought way too much stuff, but life shall continue. I got a sunflower boquet (to go with the gladiolias I bought on Thursday), tomatos, eggplant, a jalepeno, and some arugela. Yum. I'll live walking distance to the market after I move. Wheee.
I think that is about all that I have to report today. All is pretty well in my life. 3 more weeks until BNL goodness - I'll have plenty to report after that.
... I need some excitement...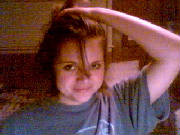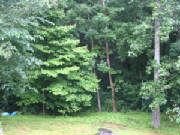 the view from my bedroom window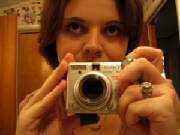 my new camera

7.16.04:::yay for access to personal webspace:::

My God! Just dealing with Tripod over the past few weeks has been slightly short of suicide inducing. I can once again update my site and will be doing so with much enthusiasm (you miss that when you can't bitch about mundane things online). I'll also be getting some lovely pictures up for those of you who have been complaining about the lack of pictures. Sorry – I was busy – computer was slow – then tripod crapped out on me. I shall make it up to you.

I think I've found an apartment. 1 bedroom, living room, dining room, kitchen, and bathroom for $290 a month including utilities and (as a coworker states) "mysterious free cable". Yeah – believe it. It's not a bad place either. Old house, broken up into apartments, with one up top just for me J I can look out my windows and see trees and I can paint the walls and I can pretty much do whatever I want there (short of knocking out some walls). I'm going to go look at the main stairway again today to see if I'd be able to get my stuff up the stairs and I'll base my decision on that. I'm quite excited about the possibility of my own place for so cheap! It's only a block away from the Arts Center and I'll be living above a really cool person I work with. Good good good. If I decide to rent it the move in date is August 1st… so hopefully I'll be in before the Barenaked Ladies concert in Philly.

I don't think much has been going on over the past few weeks. My new job is superb. I couldn't ask for anything more right now and so yay.

I'll post soon with pictures.

buhbye

6.30.04:::did I do all that I could:::

This is interesting:

so what to do
with the rest of the days afternoon

isn't it strange, how we change

everything we did

did I do all that I should

that I could

--Dave Matthews 2003

I posted that last November. Funny how my favorite song off of the Some Devil album is the one PERFECT song for ended relationships that were so good. Did I sense something? I was reading alot of those posts this morning and realized that I had so much on my mind. I didn't know what I was doing after graduation, or where I was going. So much indecision. Funny - things work out like they are supposed to, perhaps I knew then how things were supposed to pan out. Those lyrics are just SOOOO good. Yes, I did all I could and should have. Nothing more should have been done - nothing. I've also been thinking alot about PAST relationships. Things that I thought were bad - arguments every now and then, might not have been as bad as I thought (oh - other things weren't good, but the arguments were fine). Just an interesting thing I noticed today. Things you learn in life... hmmm.

I could not be happier this morning. I'm about to go to lunch with a gentleman and then off to work (which I *heart*). Today I might actually get to go around and meet some people. No more software training for me. I suppose they figure I have it now. Let's hope I do.

Tonight it's off to Home Depot to get some paint sample card thingies. I found the PERFECT shower curtain for my bathroom and now I need to find new colors for it. The blue I had originally picked out just won't do. I need some golden yellows and rusts. I'll also "need" new towels (always nice to "need" something instead of just wanting it).

I am so ready for Stephanie to come visit me. Hopefully she can before the end of the summer! I miss my friends.

6.29.04:::indeed a limited time offer:::

So I'm about done with that. If it is too much work, it's not worth it. You can't try and try and try - and finally succeed - if so, it's not meant to be. I clean my hands of that! :) You may ask of what I'm talking, but I'm sure at least one of you might know.

Yesterday I started my new c-a-r-e-e-r. It's great so far. I really only sat in on some training for a new computer program, but I really liked the people I met. Fun crowd I think. However, there is currently an intern at my desk, and he's super messy. Cookie crumbs (or something) all over my desk. I hope he's gone today. He can't have that desk anymore - it's mine... ALL MINE! He has no degree yet, I'm cooler than him, he can move *grins* I do have a window to look out of at my desk - but it faces the back of the arts center, but at least it's sunlight and such. I hate not being able to see out a window here at the University. Oh, this building is full of them, but you have to stand on a chair to see out of them. Not exactly convenient for day dreaming.

Just a little over a month until my trip to Philly to hang with my bro and to see my Ladies! Woohoo. I think I might make a shirt to wear. Something like "Got Steve" or "I *heart* Stewart*" - Steve = one of the lead singers, Stewart = something totally different. I think you can still witness him in all of his glory at

www.bnlmusic.com

. Oh, the possibilities are endless on that one.

I've ordered the first two Harry Potters movies, and I really hope to get them today or tomorrow. YAY for new DVDs. I also ordered Barenaked in America off of Ebay today. Yay for that. It's a documentary that was done by Jason Priesly (yes, 90210) during BNL's Stunt tour. I've heard lots of good things about it. I can't wait to get that in either. It will be a movie and popcorn night for sure when that comes in the mail.

I think I might pull out my guitar tonight and attempt to learn some more chords on it. I just need to break down and take a class. I'm sure I could find something around here, I'm just lazy about it. I'd be afraid that I wouldn't want to practice one week and then my teacher would be mad at me. I gradauted from college to get away from that enviornment... not to go back into it. I'll think about it for a week. If I'm not convinced then I'll just continue teaching myself (however slowly it's going).

Buhbye now.

6.28.04:::now did you know, this is a limited time offer:::

Hair's cut - it's perfect. What more can I say? If I ever remember to bring my camera and all of the things to connect it to the computer with, then I'll post a picture of it. Or maybe I'll just get my new computer soon, and then I'll post it from home.
So I've been thinking this morning (instead of working too hard). Boys/men have a game they play. It's the don't act too interested right away game. So, in turn, the girl quickly loses interest because she isn't going to waste her time on someone who isn't interested enough to call or whatever. Oh, but then boy calls after FOREVER with no call. However, girl has lost interest, and this makes boy mad. It's so stupid the game they play. Blows me away that guys get girls at all. Lucky boys that girls are so forgiving.

I went out again this weekend. Fun fun fun. I went to On The Border (yeah - I was THAT excited) and to see The Terminal. Good company, good food, good movie. What more could I ask for on a Saturday evening.

And speaking of movies, does anyone else want to go see the new Michael Moore documentary as much as I do? I'll have to go one night this week. I don't know if I can wait until the weekend. My brother liked it, and he's quite difficult to please sometimes, so it must be a winner. I'm really quite shocked that it is playing here in Fayetteville... at the mall none the less. The mall theaters have turned into theaters for family movies and such... so I'm double shocked that it is being shown there.

I start my new job today. It could not have come soon enough. I'm having to make random phone calls this week at my university job. The calls go something like this "hello, I'm calling on bahalf of so and so. She'll be in your area on so and so and would like to meet with you" "oh, you'd like to meet with her too? That's great! I'll have her call you back when more info". Okay - so it's not so much the actually calling that bugs me (I've gotten over the fear of cold calls) but don't you think that the person visiting should call? Wouldn't that be more personal? Yeah - I thought so as well. Oh well. Only 5 more half days of this.

6.26.04:::time for a change:::

My hair is killing me. It just looks blah and it's time for a change. I've thought about a radical color change, or just a cut, or a HUGE cut. Argh, I can't decide what I want. But something needs to be done. I'll have to call in the reinforcement (Barbara) to help me with ideas.

I found this today -

http://www.freewayblogger.com/

YAY for freedom of speech. Does the public good. I really want to go see the new Michael Moore movie, but I don't know if it will be playing up here. If so, I'm there. I've heard it's a bit unfair and biased, of course it is - it's Michael Moore, but I'll still go see it.

I have a date tomorrow *grins*. This time it's with a different fellow. He's a band nerd like me - so during our first date we just talked about band, hometowns, and a ton of other things. He's a grad student here at the UofA and I had a great time last Wednesday at dinner. Hopefully tomorrow will be just as fun. We're just gonna do the old dinner and a movie thing, but you know - sometimes a dinner and a movie is the best type of date. I haven't done that in ages. This guy is really my type (in looks and personality). We shall see what happens.


Anyways - I shall be going now. Busy busy busy.

6.23.04:::hump day:::

Yay, it's Wednesday. That means I'm halfway through this work week. Just a few more days until I start my new job *celebration continues* I'm ready to start something that challenges me, that helps me along a career track, that just... does something for me. Hopefully the rest of this week will go as quickly as the beginning of it did.

This morning the state of Arkansas thought it was a swell idea to work on the main highway that I take into town on my way to work. This normally would have been okay, except today they weren't letting the people who were coming off of the road I take to get to the highway off of the road. They only had one lane of traffic and unfortunately, a small turn off road was not their main concern. I only had a to wait a couple of minutes, but my mom (who had left 15 minutes before me) was just a few cars up... waiting. THANK GOD I didn't leave when she did. Just because we all live on farms and such, doesn't mean we don't need to get to work too. There were about 10 cars lined up that had been waiting. Leave it to my mom to call the state and bitch at 'em (which she is going to do this morning). Always an adventure in my life!

On a better note, I have dinner tonight with a fellow who is a grad student here at the UofA. I don't know how it will go... no one ever knows how "dinner" will go. I'm not going to completely be in my element though since I'll still be in my dressy work clothes. I'd be much more like myself in jeans and such. Oh, don't get me wrong. I'm an extremely dressy person - but for dinner on a Wenesday I'm usually not.

This is turning out to be quite the uninteresting post. Sorry about that.

Oh - yesterday my favorite Barenaked Lady had a birthday. I shall celebrate with a cookie at lunch or something. Oh the excitement. I should have brought a balloon to work yesterday, but I'm sure I would have gotten strange looks when asked about it. I just would have replied... I *heart* the Ladies!

6.22.04:::pinch me:::

my back hurts - that's bad

i got his cell phone number - that's good

that last one completely cancels out the first one - even better.


Tonight I'm going to a Pampered Chef party. That is bad for me... bad bad bad. I should never be allowed to go somewhere that sells culinary toys... never. Lucky for me I get another paycheck in two days and YAY - the culinary toys shall be mine. MINE ALL MINE. *regains composure*

I might be able to go to New York City for a weekend in late July. I'm crossing my fingers that it works out. But it might not. Oh well. I can't have it all! :) But I can wish for it all!!! I just have alot of weekend trips coming up, so the Gods might not be behind this one for me. I'll just have to be patient and see. It would be to babysit my niece and nephew while my brother "draws his funny pictures". He's doing an event for the MOMA and I would be so happy to go babysit while he does that.

Okay - off to a Pampered Chef party I go.

6.21.04:::Happy Summer:::

Happy first day of summer to everyone. However, the sun and pretty blue skies that are normally associated with summer and extrememly nonexistant in Northwest Arkansas today. I woke up to a thunderstorm this morning... the kind that shake the pictures right off your bookshelf. Of course I spent the 20 minutes for th eye to pass overhead under a pillow. As much as I love storms, I started to think about odd scenarios such as tornados, hail on my car, and so on. I just got spooked I suppose. It was a but stuffy under the pillow but at least I didn't have to watch the lightening and listen to the thunder at 5:45AM. I have thin windows in my room - I better get used to the noise of the storms. It's just been crazy weather. Horrible storms one day, sun the next, and then back to the storms.

At least those storms held out on Saturday. I went to the airshow with the gentleman I had mentioned a few days ago. Yay for airplanes, parachuters, and wing walkers. It was cool that day and the sun was hiding behind clouds - so no hotnesses. However, the clouds did ruin the fly by that the B52 Bomber was supposed to accomplish. Oh well, I've seen 'em before.
The whole day was great, not just the airshow. Conversations were had, laughing was accomplished, movies were watched, dinner was eaten, and... SNL was watched too. Yay for fun Saturdays. Hopefully there will be many more fun Saturdays to come.

Sunday was quite nice too. Victoria's Secret was visited again. Yay for pretties.

Well - my boss is back today so I can't sit here and update this as well as I'd like. Hopefully I'll be able to do it from my house at somepoint this week. If not, I shall talk again soon, do not fret.

6.18.04:::it's Friday... hooray Friday:::

I think this Friday just about ends the LONGEST group of weekdays I've ever experienced. Someone called earlier today and I could have sworn I spoke to them last week, but she swears she called Monday. Has is really been that long of a week? I think it might have been. During the course of this week I have recieved my new cell phone in the mail, programmed it, downloaded stuff for it, used it, played with it some more - and I still was bored alot of the time. Then my camera came yesterday - once again I played with it, put stuff onto my computer for it, took some pictures, and played with it some more - still bored. Thankfully this weekend shall be fun filled.

Last night I went shopping with my sister. Hooray for shopping. My personal anthem really should be the song "Shopping" that BNL has on their latest album. It's really my perfect song. Minimal money was spent (hard to believe for those who know me, I know). I bought cute things too and Vicky's Secret is having their semi-annual sale... I might have to go back there tonight. Can't pass up the fun stuff... even if I don't have anyone to wear it for. I can wear it for myself (lame).

I've almost made it through the first Harry Potter book this week. I have to say, I'm sorry if I ever made fun of those who read them religiously. It's really quite a fun story. Thankfully my sister has the rest and I can read them without having to wait to go buy them or wait for Amazon to ship it to me. I refuse to go see the new movie until I read through them. Maybe I'll get through them before it leaves the theaters.

I've been feeling quite sexy this week - don't know why, just have. This could be lucky for some perhaps - unlucky for others. We shall see. I know that was random, aside from feeling sexy, perhaps I'm feeling random as well.

okay then, I go now.

6.16.04:::apple sauce and stormy weather:::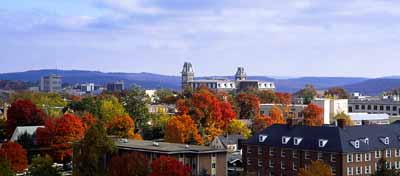 for now I work in this building - the one with the two tall towers on each side. Ain't it purdy? :)
'tis Wednesday - which means I weigh in tonight. SO - hopefully I'm still on my way to getting super sexy... or super sexier (humble... me?). Hopefully the eating heathier (like today's applesauce lunch) has been going as planned so that tonight can be just as great as the beginning of the week. Let's see - interviewed for job, got job, got a phone call from boy* (super good there), got tons of compliments on shirt today (also super good), and listening to Barenaked Ladies at work. YES INDEED, this has been a good week.
Saturday is the Airshow here at the old airport and I'm taking that very same boy who called me last night. There have been so many reasons to perform a happy dance lately, it's excersise in itself. I couldn't wait for the airshow before, but now I really cannot wait. Yay. I just love fast planes and such *grins* Hopefully this stormy weather will makes it peace with us and leave by Saturday.
So another Wednesday at work brings another start to three days without the boss here. So, another three days of quiet. I suppose BNL and Enya will keep me company. I'm gonna have to bring up some more CDs though. As much as I love both, I can't listen to the on a loop all day. It starts to get to me. Just one more full week here and than a week of 1/2 days until I start my new job full time. I'll be sad to leave here but SUPER excited to go to work at the arts center.
I shall leave you with a quotation I found on a friends away message today - "If God wasn't a Longhorn, then why are his sunsets burnt orange?"
I think that just about does it.
disclaimer * when I refer to boy I'm referring to a man. However, for those that know me well know that I don't call anyone a man unless he's married or way old. Cute guys will forever be "boy" in my vocabulary. Just to clear that up. I don't want anyone to get offended by that.
6.15.04:::CAREER:::
I got the job at the Walton Arts Center *does super excited dance*
I really can't believe it... still... even after pinching myself a few times... still can't believe it. I just can't believe that I, erin jepson... little insignificant erin jepson, got the job I wanted out of 67 applicants. No business experience, no work experience in that area (I have experience with it from my offices in TBS)... wow. Still amazed. I suppose my music degree and my superb personality helped me out on this one (kidding!). Anyways, happy me. Now if only I could also get that one other thing I want... off to celebrate!
6.14.04:::Sunday, Sunday, Sunday::: - yes, I know it's Monday - read on
I have to say that this past weekend was one of the best weekends I've had in quite sometime (aside from graduating of course!). Friday night was spent hanging with the family and playing piano with my oldest niece, Delaney. She wants piano lessons again, so I might be back at that piano playing thing I used to do. Saturday was great as well (aside from the emptying of the garage and marking things for a yard sale). Saturday evening I went out with a fellow, his brother and his brother's girlfriend. I had such a good time. We went to a Monster Truck Show (first time for me, I was entertained - I know what most of you Texas people are saying now, get over it, it was fun). Then we went to a Country/Western bar/dance hall. That was really fun as well because I got to sit and talk and well... you all know me well enough to know that I love sitting and talking. I really hope to go out with him again soon... a good time was had indeed. It was just nice to get out, do some things I've never done before, meet new people, get to know new people, not hear the same stories I always hear (since they were new people), and it was really nice to laugh. It's been a while since I've sat with friends and laughed. I'm still grinning ear to ear over Saturday.
Sunday wasn't as fun as Saturday however. I went in search of some new pants, and after the mall, kohls, old navy, and Target I still couldn't find the perfect pair. I shall go back out on Thursday and search again. Wish me luck on that one, I might need it.
I interviewed this morning at the Walton Arts Center - I WANT THAT JOB. I didn't hear anything I didn't like about it. I'll know something by the end of the week, so here is hoping (and praying, and crossing fingers, and making wishes, and even doing some kind of indian job dance or something).
Well, boss is in today so no procrastinating all day like Friday :)
7 weeks until BNL goodness.
6.11.04:::we had promises and alibies:::
it's funny how things just change, how your mind changes, how your life changes. Change for good... bad... inbetweens. Actually, things don't really change, but you, yourself, change. I'm enjoying the changes and such that I'm facing now. So yeah, we had promises to ourselves, but it's okay to break them and make new promises. More to come on this later.
I find that I have things to say in my updates on the days when the office is empty. No one to talk to all day forces me to talk to my computer. It's really sad actually, but good for those who read this.
I brought music to work today - BNL and Five for Fighting kept me company. I thought about bring something professional to listen to, but I can't listen to Enya or Wydham Hill music all day. Don't get me wrong, those are two of my favorites, but my sanity is at stake here. At least I'm getting paid for this. Let us see... what did I do today : mailed gift letters, put lables on some envelopes, I called two guys in Oregon - neither one were home, walked to University House to pick up what I thought was a small package, it wasn't, it was quite heavy so I got a workout in too, cleaned out an office, ordered my digital camera (Canon Powershot A75 - I'm dying to get it in), ordered a new cell phone and service - enthusiastic "yay", watered the plants, made some tea, had to explain to everyone why I drink tea instead of coffee (tea sipper right?), did a TON of surfing on the web, checked my email every 10 minutes, sang (quietly) to myself, updated this website. All of that and $90 as well. Not too bad. However, Monday the boss is back to work and she'll have more stuff for me to do! YAY. I just hate being bored, but really, I've done everything and even stuff I didn't have to do quite yet.
I am glad it is the weekend. Yay for weekends. Tonight we cook out, tomorrow I get to GO OUT (ghasps of shock, I know - miss. lazysitonthecouchandwatchtvinsteadofgoout is going out - control yourselves). You know what sucks when you are expecting important mail? ... sucks more than mailboxes being stolen even (which we found by the way)... don't know? Well... this national day of mourning. It's great and respectful that we are having one, but I really need some of the mail I was expecting today. Argh. And shame on the banks for closing at noon on Saturdays. This whole one day without mail thing is really gonna mess me up. *flustered* You see... Austin has taken an extremely long time to forward my mail (I still don't have it) and I expect that there will be about 3 checks in the mail which I wanted to put in the bank tomorrow morning, but NOOOO, I shall have to wait until Monday. Poo. Oh well.
Trend of the post - complaining - I'll fix that with a fun quotation I found today.
"A positive attitude amy not solve all your problems, but it will annoy enough people to make it worth the effort" - Albright (whoever he was I don't know)
This is my new motto for work. Yay. Annoying positivity is always a plus.
I shall go twiddle my thumbs elsewhere now. Buhbye now.
PS - crushes are fun.
PS part two - I have decided once again that I want to live in the bay area of California. Mill Valley in Marin County. Close to the city but out in the countryish areas. Now, to win that lottery.
PS part three (and this is the really good one) - I think I get my shiny new computer soon. Another enthusiastic yay. I've really been wanting one as mine has just lost its luster.
6.10.04:::happy dance:::
Disclaimer - I have a great picture to post - but I'm at work and it's not with me. I'm sorry to those of you who have been giving me hell about not posting pictures in a while. I hadn't been feeling very cute after my surgery, but I think it's back so pictures shall commence soon.
This has been a great week! I had an excellent interview at the Jones Center for Families (they have good pay and a great benefits package... GREAT benefits), I obtained an interview for Program Coordinator at the Walton Arts Center (even better pay and I really want that job), and I'm going out this weekend with a new friend (a boy *giggles*). Now this whole thing with the University not pushing my resume through because I wasn't a business major doesn't look so bad. I'd much rather be a program coordinator for a performance venue than an admin. assistant any day. That would give me the foot in the door I need to get into the arts administration/music business industry. *does happy dance* Cross your fingers for me on that one. I know I have mine crossed.
My boss is out of the office this week which might be good for some of you, but not for me. It's eerily quiet back here and there is no one to talk to. I also finished most of my projects yesterday so now I have two days left this week and not much to do. I started reading the first Harry Potter the other day, so I suppose I'll continue reading that. Don't get me wrong, it's not like I am DYING to run around doing stuff, but I'm also not one to love sitting around with nothing to do.
So about going out this weekend. I'm quite excited. I've been dying to get out and do something with someone new. He's very nice, quite good looking, and he's a mechanical engineering student here at the University of Arkansas (engineers always make good friends - that was for Sara). He installed our internet and I met him then. I didn't think I'd be able to meet people outside of band... but I have. I have succeeded in being somewhat normal. Any ideas of what my next accomplishment could be?
Since I'm at work I suppose I shall go do something productive... or read.
buhbye now.
okay - one more thought before I leave work. What ever happened to good old fashion chivalry?
Oh, and phone calls go both ways.
Okay - I'm finished now.
6.3.04:::arkansas and such:::
Yeah, I'm a big slacker when it comes to updating this thing. I was busy. I graduated, attended to family, moved, unpacked, started my job, worked, unpacked some more, did the family reunion type thing, worked, emailed a cute guy, and didn't get nearly enough sleep. It's been a blast though. I'm loving my job but hating the fact that I want to apply for it permanantly, my boss wants me to, tons of people think I'm doing a great job at it, but some state law says I can without 1 year of business courses. HOWEVER - other people without that got to apply. I was pissed, then I was discourage, and now I'm back to being pissed. Oh well... life goes on. You know me and my philosophy that if it doesn't happen it wasn't meant to be. So yeah, there must be something better out there for me.
I must say that Fayetteville, Arkansas is absolutely BEAUTIFUL! Mountains, tall trees, green, animals, fun places to hang. Yay for that but boo to missing my friends in Austin *sad face* Kisses to all of you.
I emailed a guy tonight. He's nice and cute and well... nice and cute. I don't know him really... other than he's really good at installing wireless internet and such. He's a student at UARK working on a degree in mechanical engineering. I just emailed to see what student type do around here other than Dickson street (equivilant to Austin's 6th) and stealing mailboxes (yes, ours was stolen two days ago - redneck/hillbillies). Maybe he'll email me back or maybe he won't. Didn't hurt to try anyways.
*yawn*
I need to be up in 6 hours so I shall say "nini"
I promise I'll update this more consistantly now that the internet is working better.
5.16.04:::whirlwind:::
It's been a crazy, crazy week. Let me see... where to start? Tuesday morning I was off to the emergency room with horrible pains, then they made me feel better so I went off to the LHB staff luncheon, sick that night, final the next morning, sick through the final, off to the doctor, scheduled surgery to remove my gall bladder for Friday, went home. I was fine until around 7PM... then I was having the worst pains I had ever experienced, paged the doctor, got admitted to the hospital, surgery on Thursday, home on Thursday night a new woman. PAIN FREE IS GREAT. So, I'm without gall bladder, without pain, and with Codeine (or however it's spelled). Life is good for me right now. However, I can't lift anything, drive myself anywhere, eat really good foods, but that's okay. I'll get better soon. So - there is why I haven't really posted in a week and such.
I move in a week. It's a bit weird. My mom helped me pack this weekend (and by help I mean that she really did it all since I can't lift and I just watched). My room is quite empty as is my apartment. Ack. I don't know if I'm ready to move. I am ready to find a job and get on with life however... just not ready to move.
Neither is my Schmoo cat. She's gonna freak out when we move. Oh well, she'll get over it.
I don't have much to say - the medicine makes me sleepy, and so now I shall nap.
5.9.04:::feeling small:::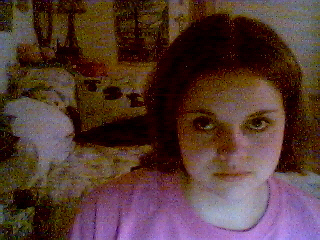 Tonight was my last LHB Band Banquet. It was enjoyable except for the fact that I felt like I was having a heart attack the entire time. I hope to get my insurance really soon so I can go to the doctor and get this taken care of. It feels like the most extreme heartburn ever. But it's not heartburn. I must just be getting old. It's all downhill from here I suppose!
I'm just in the crappiest mood ever I think. I got a card from some of my family members for graduation, and while there was a VERY generous gift in it, there was also a "Sorry we can't come" note. I would rather see them than have the money. They are going to my cousins HS grad... but not my College grad. I'm a bit put out by that I suppose. I can't seem to shake the notion that maybe my dad didn't tell anyone about it. Which really puts me out as well. Sometimes I just feel like my accomplishments and achievements don't really compare to those of my cousins. My dad has brought up about 4 times how my cousin has been accepted into Cornell and so on. Well, I'm sorry, but if my parents were going to pay for everything I probably would have applied to schools like Cornell as well. Unfortunately I actually have paid for my college education, car, insurance, phone... the list goes on... can't really afford Cornell or the like. I'm more proud to be graduating from the University of Texas than anything... at least I'm proud... at least that.
My mom said she cried when she opened up my graduation invitation. That really meant alot to hear that. And speaking of things meaning alot, Friday night was the Tau Beta Sigma graduating Roast. I never knew how much I meant to people as I did that night. Some of the most wonderful and touching things were said about me. And and huge I LOVE YOU goes out to Sara. The things she had to say about our friendship touched me heart in a way that it hasn't been touched in a long time. I can't think of a better friend to have had and to keep having. Thank you for everything.
Well - I'm all misty eyed now. It's going to be hard to move away from this place... really hard.
5.02.04:::It's all coming home:::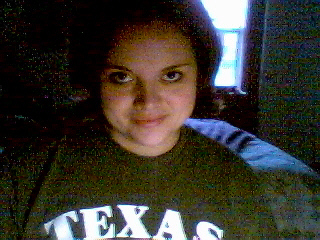 Last night was my very last Band-a-rama. I was fine until it was over and I was looking around at all of the friends I've made and I lost it. I just went over and hugged Sara (and she in turned got mad at me for crying and making her sad too - gotta love Sara for that). Even the people I don't hang out with on a regular basis have really made a HUGE impact in my life and I'm going to miss them terribly during my three year hiatas (did I spell that right?) from Austin. HAVE NO FEAR - I will be back. The more I think about it the more I wouldn't mind doing my graduate work here, but if I get into Toronto that will be a hard decision to make. I'm completely psyched about Toronto as well. Ah, decisions to make when I approach that bridge.
Band-a-rama went very well. The drumline feature got rave reviews... I actually got more compliments on it than I ever have in the past. Supposedly when Ben got compliments on it he said "they worked hard on it" typical of Ben. He wrote it... the piece was amazing... he's AMAZING.
My mom came down for the weekend for the concert and for Tau Beta Sigma family brunch this morning. It was a great weekend. My dad also came down for the concert, but I only got to see him there. It was good all the same.
I must say, it is nice that the semester is actually winding down. I have one anthropology test left, 3 easy labs, and my French final. It's really taking the stress away knowing that I'm that close to graduating. I even took a three hour nap today. It was extremely nice to sleep and not have anything to have to wake up and finish. What a beautiful Sunday :)
This might be a boring post to most, what can I do. I'm just in a nice, relaxed, and calm mood today. I feel that this weekend has been fun, exciting, and "resolving" all at the same time. A good weekend through and through.
Things to look forward to -
Graduation
Dinner with my friends after graduation
Moving to a new place
Barenaked Ladies concert in Philadelphia on August 8th
... yeah, that last thing is what I'm really looking forward to. :)
4.26.04:::round and round we go:::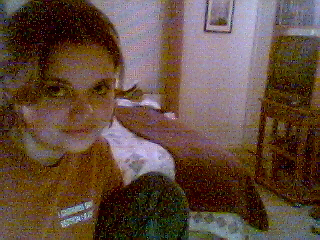 I officially bought my TexasExes Life Membership tonight. Sooo... yeah... that makes me super cool, possibly even cooler than you!
That isn't the only productive thing I did this evening. I adressed ALL of my graduation invitations and finished my graduation announcement design. Hopefully I can get all of those in the mail by Thursday. The announcements are awesome! My brother did the artwork for them and I did the text. I'm really pleased with the results and I'm twice as glad that I didn't buy the ones that UT offers. They look boring just like the invitations (and I'm not boring nor am I very formal).
Speaking of formal, the LHB formal is in two weeks. I think I'm going to put my bridesmaid dress from Stephanie's wedding to good use and wear it. It's not too bridesmaidy, and just formal enough. And who cares if I wore it in a wedding, at least I'll get another use out of it! And since I've lost weight I look even better in it than I did at the wedding. That is an extra bonus for sure.
Oh, I also doctored up my resume today. I gotta send that thing out. I should have been on that last month, but what can you do. I also need to doctor up some essays for grad school application stuff. Fun times ahead.
I'm sleepy - nini
4.25.04:::winding down:::
After the craziness that was this semester, I think I'm finally beginning to wind down. Although last week was pretty stress free, I was still hot wired for all things stress related. However, I've felt pretty relaxed all weekend, so yay for that. Today was Miss Jeanna Morgan's bridal shower. It was an enjoyable time. A major shoutout to Melodie and her DELICIOUS fruit pizza. When I have a bridal shower I want one. You don't have to do anything else but make me a fruit pizza! I got to see and talk with people I never get to see or talk to anymore. That is always a good thing, but it is also a sad thing. If I never see them while I'm still in Austin, how will I ever see them when I am gone?
And on that note, the Tau Beta Sigma roast is quickly approaching. It's an evening filled with stories and memories about the graduating members of TBS and their friends and such. It's always funny and sad all at the same time. At first I was scared that I wouldn't be able to come up with any good stories to relay, but now that I've started thinking about it I have too many. Too many good times, fun times, funny times, and sad times with my friends here at UT. They have helped me through 4 of the toughest times in my life and I hate to leave them in less than a month. I just tell myself that I will be back. I don't think I'll be able to stay away from this place for too long!
*sigh* now I've gone and gotten all nostalgic.
I shall end this here.
4.24.04:::Viva Fiesta:::
I returned home this evening from my very last Fiesta Flambeau parade that LHB marches in annually. It was a good parade. As usual, my feet are killing me, my arms are extremely fatigued, and my knees want to know why on earth we call "goin' band" as many times as we do - but I have to say - it's worth it. As much as I bitch and moan about that parade, it's always a great time to be had once I'm there. I found myself smiling almost during the entire parade... I don't think I've smiled that much in ages. Actually, last night I did a lot of smiling. It's just great to feel happy, to be happy, and to show that I'm happy. I've had too many sad days this semester and I'm really getting tired of them. I'm a happy person, I should smile more!
Last night I went out with my roommate and a friend (Barbara and Cynthia respectively) and we went banquet dress shopping. Since I don't have a date this year I can wear whatever I want. I don't have to worry about wearing something the date would like/approve of... I can wear WHATEVER. I've narrowed it down to a floor length red dress. It's beautiful... it's longer in the back than in the front so I feel very elegant in it. The other dress is a knee length cocktail type thing. Also quite nice. I just have to take one back, so I'll pick one eventually. I just had a ton of fun shopping with them last night. Trying on formal dresses, looking at sale racks, trying on clothes in stores that I haven't been able to try in clothes in since HS (because I was not the right size). BUT YAY, now I am. It's fun. However, Cynthia made a very good point last night as we were standing in Charlotte Russe waiting on Barbara - "I feel very old in here" - amen. Old is exactly how the people in that store make me feel. Last I checked, I'm only 23. Not exactly old. Heh.
The past two weeks have been full of eye opening experiences and such for me. I've decided that even though I don't need to take the GRE for U of Toronto, I'm going to take it anyway. I would be stupid not to take it and apply to UT - Austin, Rice, U of Miami, and the other schools that have Musicology. Although, if U of Toronto accepted me, it would be hard to turn that down. I've fallen in love with the idea of living out of the country for a couple of years. However, if I were to get into a school elsewhere that would offer more money, I would have to consider it. Grad school isn't cheap and I'm not wealthy. A horrible combination I think, and unfortunately the majority of my friends going to grad school are battling with that fact right now. Anyways, who knows what the future holds, no use putting all of my eggs in one basket by not taking the GRE. Wish me luck, I'll be studying this summer.
Well this sleepy girly is heading to bed. night all.
Song of the moment - Enya "Storms in Africa, Part II"
4.22.04:::and don't forget... no regrets:::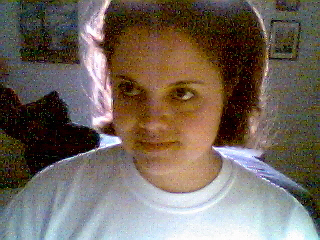 "...I'll be that girl and you will be right over..." BNL 1998
I can't believe this week is almost over. It seemed like it would never get here, and now it seems like it was never here at all. After this week commences there will only be two more weeks of classes left - and then only one final on the first day of finals. YES, I am officially freaking out appropriately. I graduate in one day less than a month. Is it supposed to be this scary? I was fine until a friend of mine pointed out that it's going to be a rude awakening after I graduate. My semester has been so friendly class time wise. Earliest class is 12:30 (of course I'm up before that getting things done, but still, I don't wake up early by any means). I know I'll be fine, but I've enjoyed sleeping in almost EVERYDAY! The end of school approaching also means packing this apartment up. Well, packing is okay - it's the cleaning I dread. Blah. I don't mind cleaning, but cleaning to move out is an entirely different story! Fun times wait ahead.
DISCLAIMER - no one is allowed to read into the next segment. It was merely on my mind and didn't stem from anything that happened/was said/or that I saw... and no we continute
You know, I was thinking last night while trying to go to sleep, I've never been told I'm ugly, or fat, or unattractive. I've always been told I'm intriguing, intelligent, interesting, funny, silly, great personality, blah blah blah. However, I've never been persued. I've always persued first and have sometimes/sometimes not gotten my object "desire" I suppose you could call it. I mean, I've been persued (can we call it stalked?) after I've done the persuing and obtained and so on and so forth, but never have I been persued before I made the first move. Do guys not see me for who I am before they really get to know me? Always a problem in the life of a girl I suppose. I've always had a negative view on this. Some people have it easy, others do not. I suppose I'm one of those others. It's not completely horrible I suppose, just not completely perfect either.
Here is my quote of the week - it came from my drumline instructor, Ben. "If it makes you feel any better... I have them too" BAM. It was great. We (the cymbals) LOVE Ben.
4.19.04:::paradise in the Ozarks indeed:::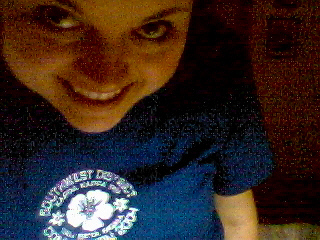 This weekend was spent in Fayetteville/Springdale (arkansas that is) for the KKY/TBS District convention. It was fun and I got to see some of the guys from KKPsi at UTArlington. That was especially good. I miss those guys a lot more than I thought.
I also had a TON of fun with my lovely sisters and brothers from good ol' UT :) It was a good weekend all around.
I also read the majority of The Da Vinci Code. WOW. It is turning out to be an amazing book. I absolutely recommend it to everyone (just in case someone else hasn't already done so).
Well, there are three weeks left in the school year. I so badly am ready to move on with my life. Try something else on for size. Move to a new place, and get rid of the happy memories that only taunt me here in Austin. But, on the other hand, I am very sad to be leaving. I had a cry over it last night when I was thinking about it. I used to only want to leave Austin, and now I only want to stay. I'm very torn between leaving and staying, even though I know my only responsibly option would be to move home and save money for grad school. *sigh* Only three years away, then I shall come back (that is of course if I haven't fallen completely in love with another place and decide to stay there!).
And on another slightly serious note - I haven't been happy for a while and it is really bugging me. I really noticed it this morning. I used to LOVE walking by the LBJ fountain in the morning on the way to class, today I realized I wasn't happy. I thought about it for a minute and realized I'm just not a happy person as of lately. Actually, I've been quite sad. It's not even a lack of happiness. I'm sure I could place my finger on it, but I'd like to think I'm a MUCH stronger person than that. I suppose I have nothing to look forward to in my day like I used to. Okay - enough of that, it's not making me feel any better to talk about it. Blah.
However, this week should be good!
Welllll, I should be going now. I have tons of homework and a really good book to finish. Probably not in that order though :)
And goodnight.
4.12.04:::is there really an answer:::
Okay - so I've been running this through my mind over and over again since yesterday morning and I just need to write it down. I wouldn't dare just talk about this in a conversation for fear of offending someone, because I'm not out to offend. I was flipping through channels while waiting for my mom and grandma to get home from church (yes, Easter morning, I wasn't there - I'm not huge into "going to church" really - not a huge shocker if you know me). Anyways, there was an insane amount of televised Easter services on cable. I found one trend, not a single one interested me. In fact, they almost all made me sick to my stomach. We'll start with the obvious - I've never been a huge fan of Protestant music (I prefer OLD FASHION Catholic music over Protestant any day). So, I don't like the music that much as it's written, and then when it's sung by hundreds of people, none of them singing the right pitch, it really makes it even worse. I'm not talking about the words here, just the music itself. Now, pair that music with banners, flags, and SPECTACLE, and you have something that doesn't interest me at all. While Easter, within the Christian faith, is a day of celebration, I suppose I celebrate differently than some. But it's not just Easter that this takes places, churches do this all the time now. It drove me away years ago, it still drives me away. I battle with this. I had grown up going to church. And even though I don't go know, I say I want to take my kids there someday. However, I don't want them to grow cenical about it as I have. So... do you take your kids to something you don't support just for the act of having them learn something, or do you opt out and teach them on your own... or neither. Is religion something your taught? Is religion something you just grow to know on your own? No one taught me the things I believe... and no one teaches it still. Would I be a hypocrit to want others to learn things I don't completely agree with and follow? Yes... I think I would.
This just didn't come from the spectacle on tv Easter morning, but after I finished reading Angels and Demons I started to think again about how I feel on religion and such. The book states that God is not necissarily a being in the heavens, but a power that runs through you... just a higher power than we can comprehend. This is exactly what I believe. It just makes me feel better to know that what I believe in isn't a concept I've just made up, but it's something I've come to understand myself. Whether or not what I believe is right... that will be left to learn at a later time... I still believe it. The book also deals with Religion vs. Science. The argument is, and has been for a while, that science attempts to disprove that God exists. I disagree wholeheartedly with that. Science just finds answers for things we don't understand and scientists set out to find more answers, explanations, and so on. They aren't doing it to prove Christianity wrong... if answers can be found, why shield them from the rest of the world in the name of Christianity? That in itself is a greater sin than any I can think of. I suppose I still have a TON of discovering to do in my life. And will I ever know what to believe in?
4.11.04:::bye bye self respect:::
*sigh*
The strangest things happen sometimes. I've done REALLY well with being single and without Mark for well over a month. Then one day last week I just started crying while trying to fall asleep. I just got very sad for some reason. But then I'm fine again. Until I think about something else. I read Angels and Demons this weekend while I was in Arkansas. It was a great book, but it's one that Mark had recommended to me. So everytime I would close the book to get my drink from the flight attendant on the plane to to pass my trash across the aisle or whatever, I was left with thoughts of him. I would try to replace them with my new thoughts of new things in my life or whatever, but I couldn't. I couldn't help but notice how cute and happy the couple next to me were, and the guy who push her nose... and that just made me think of Mark. And I remained okay until I got unto my car, and then I just sat there and cried for 10 minutes. I try not to let any emotion get to me, because I think I'm way too busy for that. I suppose it starts to bottle up again until I can't take it. I did that with Chris, and I'm doing it now with Mark. I know it isn't healthy, but I don't know how else to do it. Anyways, I made it home and instantly felt better. I don't know why, but something made it's peace in me once I walked into my room. I ran a bath and the phone rang. It was for me, although I couldn't get it. I thought "wouldn't that be weird if it was Mark". Well... strangely, it was. I haven't talk to him on the phone in ages and most of the time it was when I called him. It was just weird. It was great to talk to him, don't get me wrong. And I was fine talking to him. But it just makes me a bit sad when we hang up. Maybe it's healing in it's weird way... to just get to talk to him. Hopefully it's healing. I'm sure tomorrow I'll go back into "everything is peachy keen" mode, and everything will be just fine for 5 more weeks. And then I'll have a bad day, and then back again. Blah. Is there a better way to get over someone? He was wanting to have lunch next weekend, and I was wanting to as well, but I won't be in town. And with the way I'm feeling tonight, perhaps it's best we won't be seeing each other. I really don't think I'd be very Erin like. I think I'd be a bit quiet and melancholy.
Well... hopefully we'll see each other before I move, at least just to say "hi" and such.
I think I need a good dose of Barenaked Ladies music and my cozy PJs.
Memories suck sometimes.
However, at least I have good memories and not bad ones.
Love to all. Goodnight.
4.01.04:::minding my own:::
Okay. The stress in my life has tripled in the past couple of weeks but my tolerance for stress has not. Everything is just getting to me now. People are pulling me in every direction I can think of and I've just about had as much as I can take. Now I really am counting down the days until May 22nd now. I have absolutely ZERO free time this weekend, not even one hour to sit and enjoy my own space and time. Next weekend will be great however. My mom is coming, I'd say for Easter, but really it was my only free weekend so she is coming then. We shall have fun. She hasn't seen me since I've lost all of my weight so I'm very excited about her seeing me and being shocked! Also she likes to go look at antique stores which is really high up there on my list of favorite things to do. I can't wait. She'll be here Friday through Easter Sunday. FUN. But then it's back to the grind. That week is LUCKY's 3rd degree so I need to get that wrapped up, then I leave on Thursday for District convention up in Fayetteville (so yay, I will see my mom again, and hopefully I'll see my sister and nieces as well!). I'm actually looking forward to that weekend I suppose. 13 of my favorite TBS girls and only 6 KKY boys ('cause they are spares and couldn't go) hanging out in one of my favorite places. So yay for that, however, it will be a busy weekend up there, so boo on that. Oh well, can't win them all. Then another week of tests, papers, and lectures, then it's Flambeau weekend (and perhaps fun shall commence as well? - we shall see on that one), then another week of crap at school, then it's Band-a-rama. Ah, the busiest weekend since OU weekend. Band ALL evening on Thursday or Friday, then Band all day on Saturday, then TBS family brunch on Sunday morning... but I don't think any of my family will be there, but HEY, I'll have my lovely sisters :) Then, last week of school which consists of more tests, Zavala parade, Roast, TBS/KKY informal, LHBSA Formal Banquet, my god... does it ever end? So... just in case you didn't really think I was that busy, there it is.
On a happier note - I emailed the Brothers Creeggan info email to ask for a CD they are giving out, and you know what? Andy Creegan actually emailed me back (personally, not some automated thing). Anyways, those of you who are BNL fans like me know that Andy was one of the original Ladies, and I believe he was with them until '95. So, yeah, I totally geeked out when he emailed me. Awesome stuff. Anyways, I get a free Brothers Creeggan CD which is super. I have one already and desperately want another one. However, being that they aren't exactly well known down here in Texas, finding their CD is a bit of a challenge and I don't want to do anymore Amazoning this semester. So yay for free CDs. They have a new one coming out soon so hopefully I'll be able to locate that one someone in a shop.
Hmmm... what other interesting things have occured this week? OH, I talked to one of the professors writing a recommendation letter for me. He has been one of my favorite teachers here at UT and so I was excited to go get to talk to him. Yay for one letter being taken care of. I just have to get the other one to one of my band directors to get him to write one. I figured that would be good since I've slept, ate, and breathed LHB for the past 3 years. Hopefully they will be spectacular letters and will wow admissions up at University of Toronto and they will have to let me in :)
Well - I'm tired, so I think I shall head to bed. Staying away just reminds me of everything I have to do and such. Bah.
nini
3.28.04:::wasted afternoon:::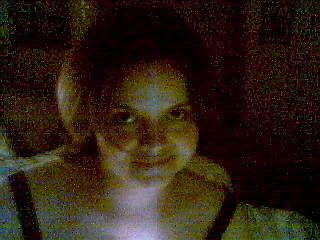 basically the only thing I've did this afternoon was watch a DVD, read some, and the following...

...come on... ckick it, you know you wanna!
Okay - I've been a bit more productive since I posted earlier - I've gone to drumline rehearsal. That is pretty productive. I could have not gone, and that would have been the opposite of productive. See... not a slacker! Letsee... what occured at rehearsal - hmmm, worked some more on the NKOTB visual, added some more visuals, goofed off, and proceeded to lose my class ring. I didn't notice it wasn't on my finger until I got home. I worried myself sick all the way back up the bandhall. But alas, there it was. THANKGOD. I would have cried had I not found it. I suppose that made for a pretty dramatic evening! Look at the exciting life I live. Heh.
Other than that I've done absolutely nothing. I opened up my French homework and glanced at it, but I'm not allowed to start it until after 11PM. It's just my rule about French homework. Why ruin a perfectly good day with it? I might even put it off until morning. I work better up at the PCL anyways. Less distraction up there... here I have too much to look at, my walls are perfectly cluttered with memories. Ah, why ruin that with homework? No reason to.
FYI - I really make the best sandwiches EVER! I'm not the only one that thinks that, anyone who has eaten one of my sandwiches would back that up. I'm gonna write a cookbook about sandwiches someday. It will be a hit, just wait. Everyone will be eating my sandwiches.
In 7 weeks I will be done with my undergraduate degree (that includes finals and everything) woot! I can't believe it's already down to that. To be sad? Aprehensive? Scared? Excited? Happy? A mix of all of that? - Each moment brings a different emotion about it. I am certainly ready to move on to other things, but I'm not quite ready to leave my friends. I have such amazing friends here at UT. Oh well - we all graduate, we all move on to other things. It's part of life. I don't think I felt this way about graduating from high school however. Then it was just like "LET ME THE HELL OUT OF HERE". I suppose I've grown more attached to this place than I had to Euless. Euless was kind of... a dead end for me perhaps. It was a nice place to grow up, but that was enough. It was time to get down here to Austin. But now it's time to go somewhere else. No reason to settle down when there is nothing to settle down to. Perhaps someday there will be something to settle down to, but it might not even be in Austin, so why wait for it to come find me here?
Well, that is about all of the random things I have for you today. Sorry to dissapoint if you wanted more.
Bon nuit.
3.27.04:::to lift you up over everything:::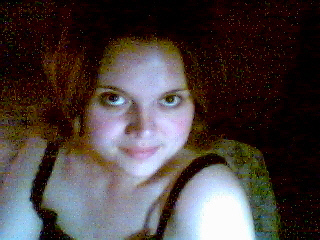 a picture for you
This post has changed twice today - I'm just not satistfied with what it said. Things that have been on my mind lately.
- I need a new computer, perhaps I'll build my own. That shall be fun indeed.
- Why in the hell can they not get high speed internet at my grandmas, it's not like she lives in the middle of no where. This is really upsetting me for some reason.
- Why do I ALWAYS want what I can't have? Is there even an answer for that? Bah.
3.25.04:::ahem *taps on microphone*:::
I was on my daily ride home on the CR bus today and I was thinking... I've been a bit silly lately. Not insipid silly, but just... I have been a bit Erin lately. I didn't know it until recently, but I had hid that Erin for the past couple of years. I don't know why actually, but I had. Maybe it is because when I moved back to Austin I wasn't around my safety net... or my normal group of people and I started dating Mark before I had completely found that, and that Erin never came back. MAN, I've missed her. HEY ERIN! :) Erin = geek or goofball, whichever you prefer. I'm glad she is back though. It's alot more fun being me once more.
So, after talking to an old friend of mine, I've come up with a list of standards. He had asked me what type of guy was it that I consider to be my type of guy, and while I can't figure that out, I have come up with "the list"... I'll probably add to it daily.
.. ready for this?
1. College graduate (or close to it).
2. Has goals beyond college.
3. Non smoker/substance abuser.
4. Fan of many types of music.
5. Fun, but serious when need be.
6. Not skin and bones (I hate scrawny - it's not my type at all)
7. Knows how to argue - give me a challenge on that one.
8. Isn't pushy about time. I have my space, give it to me.
9. Angelic on the outside but oh so unangelic when it really comes down to it.
Okay - I shall add to it later. That is all I can come up with now. I think it's a good starter list.
However, I shan't be looking for someone who fits that bill for a while. I don't want a long distance relationship. I've had two of those and they aren't fun at all. I don't mind dating around... see if there are more things to add to the list - but I have been in serious relationships my entire time I've been in college, and it's time for some singleness. I need to rediscover who I am and why the hell the happy go lucky Erin was hiding for so long. That can't happen again.
So - I shall go dream of the BNL summer tour and then I'll wake up way too early to do some homework. Nini.
3.23.04:::I like your style crazy pound pup:::
I got one of those silly "you know you were from the 80s if" emails today... I don't know if I laughed or cried more in realization of how bad of a time that was for everyone in elementary school. Okay - as a disclaimer, I have 2 older brothers and an older sister that looked like they all belonged in Pretty in Pink but that is almost cool in my opinion, however, those of us born around the turn of the decade did not have it so nice. Some were those "you wore biker shorts under your skirt and thought it was stylish" and you know what... it WAS stylish. MAN, those and cross colors clothing, we were cool kids, lemme tell you. But... thankfully we are beyond that, in the fashion world anyways.

Okay - that is all I had for this afternoon - I'll post more later.
Oh - I found this picture of me with a pony tail on the side of my head... it's number 13 on the email I got :)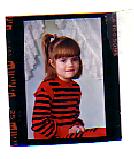 3.22.04:::if all else fails you can blame it on me:::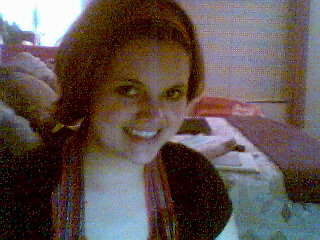 Despite the fact that I dozed off in every class today, it was a rather good day. I was just in a good mood - but usually happens when I go to bed at a decent hour and wake up also at a decent hour. The first day back to class from spring break wasn't the most horrible thing I suppose.
I went to the mall today (big surprise... I know) to return some shoes I had bought this weekend (impulse buys are never a good idea - but they were super cute... dark brown addidas samoas with light blue stripes - oh well, if I miss them terribly I'll go back and get them). Anyways, after returning them I was walking by Express and lo and behold, a sale was taking place. So I went to browse not thinking I'd find anything, but there is was, on the $30 rack - the PERFECT little black dress. Actually, it looks very similar to my perfect little red dress... but black... less provacative I suppose. Anyways, I had to get it. I love their dresses in this style and it was 1/2 off the original price. I couldn't grab it off the rack fast enough. It was mine... *insert devilish shopping success laugh here* Hey, don't look at me that way, it still was less than the shoes I returned, so I did a good ... almost good thing. Now, all I need is a place to wear the perfect black dress to. Any takers?
Today was also a good day because of the compliments I got from TONS of people, both on my hair and on my slimmer sexiness. Hah. I suppose people are finally noticing. YAY. and one more time for fun, YAY! It just feels good to hear people say I look great - it's reassuring that my passing up on Double Daves 2 for 1 pizza rolls on Tuesday is actually paying off. So once again, YAY.
My brother is in Paris. He sent lots of pictures via email of the Eiffel Tower... and him in front of the Eiffel Tower... MAN, when is he gonna move back there so I can go hang with my big brother in France? He lived there when I was too young to trapse off by myself, but what's he waiting for now? I'm so jealous though, I wish I were in Paris right now. Oh well, Austin will have to work for now.
ummmm... okay, that's all. Buhbye
3.20.04:::mcdonalds and merry-go-rounds:::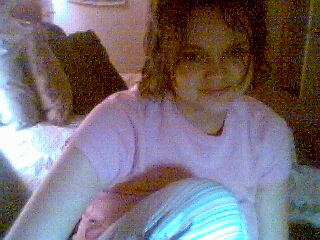 Did anyone ever go to a McDonalds birthday party back when they were tiny little tots? I think that was the most fun of all the birthdays I had gone to (I'm placing it above ChuckECheese ... or was it Showbiz pizza then?). I was just remember back to one where we ate so many chicken nuggets and McDonalds cookies and sodas and then played on this merry go round (not the stupid electronic one they had, but one of those you'd hang onto while someone ran around in a circle spinning until someone flew off and got hurt). I think I went home and threw up after that party, but man, that was about as much fun as a 7 year old could have.
I miss parties like that. Puking after drinking yourself silly isn't the same as throwing up after playing on the merry go round. Nice thoughts, eh?
Now that my spring break is coming to a close I realize how UNPRODUCTIVE I have been. I mean, I cleaned out my closet, took stuff to good will, took stuff to Buffalo Exchange, sold stuff to Half Priced Books... well, okay, so it was slightly productive. But I didn't go work in the uniform room as much as I needed to (guess what I'll be doing tomorrow). I gotta get that ready for LUCKY to redo it... and I didn't read any anthropology, but that is typical. I'll be reading those chapters the night before the test as usual. I also didn't do my French homework, so sometime tomorrow I'll be working on that. Only 5 more weeks of that stuff! Woohoo - then it's off to Fayetteville and all that is the land of Wal-Mart. Step one will be to find a job. Since I'll be moving out to the farm I won't have to worry with finding an apartment. My mom said I could have two bedrooms out there. Yay for that. The rooms are... well... quite small compared to what I'm accustomed to. We'll see how all of this works out.
Last night I went to see Eternal Sunshine of the Spotless Mind and wow... great film. If I were to blab on about it I'm sure it wouldn't even do it justice, just go see it if you haven't. Kate Winslet makes me want to dye my hair a crazy colors. Perhaps one day I'll go for purple... eh, but on second thought I'll never have the guts to do something like that. My colorful creative outlet comes out in my broad spectrum of shoes. I'm on the hunt right now for pink shoes, but I found some red and orange ones that I might get instead. We'll see how I feel about them when I get some more money. Yay for colorful shoes.
Well, to bed I go with myself. Tomorrow I have way too much to do than the day allows.
nini
3.18.04:::to do:::
...and if I always seem distracted like my mind is somewhere else
that's because it's true...
So - I was thinking tonight while soaking in my nightly bubble bath about the things I want to do before I get too old and crotchity to do them. Here is what I came up with:
-learn the following instruments: guitar (working on it), accordian, double bass, and harp
-parachute (tandem is fine, as long as I'm falling out of a plane I'll be happy)
-camp out in the Alaska wilderness
-live in a foriegn country (not Mexico though - that really doesn't do it for me)
-have dinner with one of my favorite celebrities (musician preferably - that would be kind of fun, but if it doesn't happen what can I do, it's not really in my power to make it happen!)
-figure out what went wrong (if anything did at all)
Yes- things to do before I die. I think that is a good list for now. I might add on to it as things come to me.
So I've been craving Tex Mex food lately. Like... Abuelos (too expensive) or Mi Tierras (too far away) or On The Border (once again - too far away). Damn diet doesn't allow that kind of food though (at least not the REALLY good stuff). Oh well, the end goal will be worth it. It's just been hard to stay on the diet this week since I've been doing absolutely NOTHING all day. Well, I've been daydreaming of getting into grad school and skipping out of the country and playing in the snow. Oh, and I've been looking at what apartments are like up on Toronto - lots of hardwood floors which is FINE BY ME. Carpet just gets nasty - even if you vacuum it everyday.
You know - I'm going to not talk about vacuuming on my website. How random is this posting. My goodness, see what spring break does to me. I think my roommate needs to hurry up and get home so I have some human interaction more than once a day! I'm so used to talking to someone everytime I go out into the kitchen or something, but all week it's been EMPTY out there. It's starting to get to me I think. Well, the break is almost over, and while some might be sad about it, I'm quite excited. Ready to get the rest of this semester underway. Ready to get back and see my friends and update them on the fact that I won't be sticking around Austin after graduation (this might piss some of them off). I'm just ready to get back on my normal schedule. Of course at the end of next week I'm sure I'll think differently. Oh well... the grass is always greener on the other side they say.
So - I'm gonna leave this posting at that. And tomorrow I might look into playing the accordian :)
3.16.04:::feet first:::
...Make me a boat
Away I'll float
Into the stillness of a pure blue sky
There's nothing more to hold me now
And I got no more tears to cry...
~david gray 2002
I think I spent 20 minutes looking for the PERFECT lyrics to post on my site tonight - but I think I found them. I mean, I could explain why I used them but I'm sure it's completely obvious. Today, for the first time in quite a while, I have felt completely positive that I have nothing holding me down. I am completely exciting and I'm jumping feet first into life. There are so many things I could do, so many paths I could take, and so many open doors with my name on them. I always tell people that when a door closes they can be sure that at least another one will open for them. A while back there was no way I was listening to my own advice - I was refusing to let that door close, and once I knew it was closed I refused to believe it wasn't going to open again. I was lost, scared, upset, I just stared at it... waiting for that to be my open door... it wasn't until a HUGE one opened up behind me that I was willing to turn around and see it. It wasn't until then that I realized I was never meant to be finished with things after my graduation from UT in May. Actually, everything is just beginning once I graduate. For me to do what I want (which is USE my degree, research music, surround myself with the only thing I find refuge in during the bad times) I have to continue my education. Just two weeks ago I was searching for some job that would pay the bills - not even a job to tie me over until I find my dream job, I was looking for some entry level job at any place that would hire me. MY GOD! How unhappy that would have made me. 5 years ago I knew what I was going to school for. I was going to get my degree in Music Studies - go on and get my graduate degree in conducting or whatnot - and then continue on with my PHD. Well, you know, I've changed majors within the music school, but there is NO reason why I shouldn't keep that dream. I might not want to teach high school band, or be a conductor anymore, but dammit if I don't find something to do for the rest of my life in Music. My favorite classes have been my music history and ethnomusicology based classes - that is why I changed majors from Music Studies to a BA in Music (it allowed me both a minor and more room for the music classes I wanted). How amazing would it be to go on and be able to do research in the field of ethnomusicology? Wow - I can't even imagine it at this point. I can't ever imagine why I was giving up on that idea because I was scared of losing a relationship - because I was scared of leaving my friends - because I was scared of losing my identity with all of the change. I don't think one can ever lose their identity, they can only add on to it and enhance it.
I just can't stop thinking about my new decision for my future. I can't help but getting exciting that I get to move to Arkansas for a year - had someone told me I would be doing that when I started to college I would have laughed at them, but now I look forward to it. It's a new chapter in my life and when that ends I'll (hopefully) be off to Toronto. My goodness, had someone even hinted at that 5 years ago I not only would have laughed at them but I would have asked them never to talk to me again. How exciting is it to so something that too many people shy away from? Leaving the country (let alone leaving Texas) for school.
And for my friends that read this - YES, I will miss you guys, I'll miss you guys like hell. The friends I've made here in Austin have often been the only thing I have had to get me through the very tough times I've been faced with in the past few years, but a move doesn't mean they are going to be written out of my life forever... so don't fret dear friends (there is always alumni band weekend to come back to!)
Onto other things - today was such a beautiful day. It was a bit cloudy at first but then the sun came out. It was the kind of day that could have been spent barefoot at Zilker, but I had errands to do for I start my spring break job tomorrow and won't really have time to run errands for the rest of the week. But I did get to enjoy the day going to and from the locations of the errand running. I even washed my car today - amazing, I know, it's clean and purdy once again :)
There are other reasons that today was good, but I can't go airing all of my secrets on the world wide web can I? Ask and you shall recieve my good dayness.
Well - the night grows late and my bed is calling my name. Bon nuit.
3.15.04:::trying Ontario on for size:::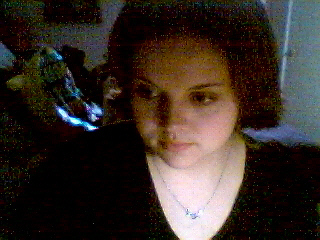 So what if I decided to go to University of Toronto for grad school in a year or so? I think it is a dandy idea. It's been odd... ever since I've looked into something like that ALOT of signs have pointed me North - it's actually quite creepy. Anyways, it's a good school, they actually have the grad program I want (no one else seems to), and they have snow - lots and lots of snow.
So - how does that sound for an adventure?
In other news - I got my hair cut today, it's super cute. I ran loads of errands and ate a boca burger. Wasn't my Monday exciting?
3.13.04:::mental health is overrated:::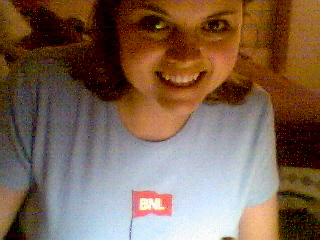 so... what in the world am I going to do with myself come May 23rd (one day after my graduation for those who are curious). Geez, I was fine thinking I'd find some job and sit my butt down here in Austin for a bit, but then I watched Mona Lisa Smile last night and spent the following hour confused and scared as hell because now I'm scared that I don't know what I want from my life. I even talked to the Schmoo about it, but she didn't seem to care too much, as long as what ever I'm doing includes feeding her at night, she'll be cool with whatever. Heh, cats... so easy to satisfy. Perhaps I could move to Boston? Boston is quite lovely in the fall, and that is where I want to get married some day - up in the Northeast - in the fall - with the trees all pretty and red and orange - and I'll have grilled cheese and tomato soup served on fine china - outside - in the fall - in the Northeast. Soooo... Boston would be one step closer to that. Heh. Silly little girl dreams.
But really - where am I supposed to go? What am I supposed to do? Where is life's instruction manual? Good lord. This isn't easy at all. But I suppose no one said it would be.
On to another subject, today was quite fun. Barbara (my roomie) and I decided that it was too gray outside to do anything productive, so we head out to Barton Creek mall and ended up shopping for a few hours. Clothes were bought, pretzles eaten, and things were gossiped. Today was fun indeed. My new clothes look good, my belt perfect, my body spray yummy smelling, but I didn't get the shoes I wanted. I want some casual shoes - something I could wear with a "geek rock" shirt and really play that up. Any ideas? They have to be JUST perfect. Perhaps pink... or bright red. I don't know which yet. I'll find them some day. And I'll get my "geek rock" shirt and wear my geek rock shoes and be picture perfect for all that is well... yeah, geeky.
You know what I love more than my new clothes? Oh, and I love it even more than my N64 that is in the mail (hopefully), I love that tomorrow is Sunday and I still have MANY days left before I have to go back to school. Yes... I love that.
3.12.04:::a royal courtier:::
Okay - I still haven't come down off of my BNL high that started on Wednesday night. It's just Steven Page's voice. I've pulled out all of my BNL CDs and have listened to them over and over and... yes, over. My favorite song right now is "Testing 1, 2, 3" but my old favorite is "Break Your Heart" from the Born on a Pirate Ship album. It's just awesome. Bah. I can't get over it. My next goal in life (since I'm almost finished with the goal of a college education) is to meet at least one of the members of BNL. Road trip to Toronto anyone ? Hehehe.
SO, spring break started today. YAY, I had a test at 1 and then I was school free until the 22nd.... and I got a job today. So yay me. I'm going to be working at the SXSW convention Wednesday through Sunday. It's a couple of hundred bucks to hund out leaflets in the convention center. I'll do that and be able to add a music convention to my resume (who cares if I just passed stuff out). So yay for money - I might also go donate some plasma - that's $50 a week. That's something too. Eh, they need plasma, I need money... it's a win/win situation.
I shall end with this bit of inspiration - Today is calorie free friday - go gorge yourself. I did. I even bought an extra dessert to bring home - but it's Carnegie Deli marble cheesecake, so it's completely understandable that I did that. It's the worlds best cheesecake.
And now for "Break Your Heart"
The Bravest thing I've ever done
Was to run away and hide
But not this time, not this time
And the weakest thing I've ever done
Was to stay right by your sdie
Just like this time, and every time
I couldn't tell you I was happy you were gone
So I lied and said that I missed you when we were apart
I couldn't tell you, so I had to lead you on
But I didn't mean to break your heart.
And if I always seemed distracted
Like my mind is somewhere else
That's because it's true, yes it's true
It's this stupid pride that makes me feel
Like I have to follow through
Even half-assedly, loving you
Why must I always speak in terms of cowardice?
When I guess I should have just come out and told
you right from the start
Why must I always tell you all I want is this?
I guess 'cause I didn't want to break your heart..." -BNL 1995
3.10.04:::All that you will see is a celebrity:::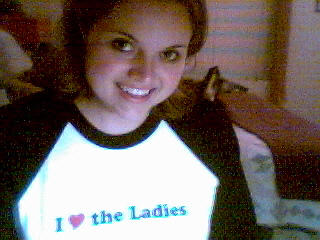 Oh - my - god. Tonight was the BEST concert experience ever. Yes, I'm placing this above my first DMB concert which was opened by Ozomatli - this was BNL and it was amazing. I have seen them live before... twice actually, but this concert was totally different. It was at a smaller venue than I'm used to, the stars were beautiful, the air cool, and my Ladies - up on stage, doing what they do best - ENTERTAINING. Man. I was giddy in love the entire time. I would totally have children with each and every one of them. Man, I really could go on and on about this concert. I almost cried at the end and I don't know why. You know how the Beatles were to so many girls in the 60s, well... that's my BNL. I sound rediculous, but whatever. It's better than crying over NSYNC or something completely untaletented. They sang new songs - old songs - inbetween songs - rediculous made up on the spot songs about how all the sandwiches at Subway taste the same... they did trivia... they did synchronized dancing, it was all that is the Ladies. I sang at the top of my lungs until I couldn't sing anymore... I jumped and I fell in love with them all over again. Every time I see them I like them even more. The friend I took said she really liked them before she went but now she is WAY more in to them - I'll take that as a YAY. Anyways. It was swell. I *heart* the Ladies.
Okay - I'll quit gushing about my crush object at the time.
Tomorrow is a French test. That's gonna blow. I haven't studied and I almost don't care at this point. I'm too happy to study.
I think I shall procrastinate. Buhbye
3.9.04:::I am crazy just like you:::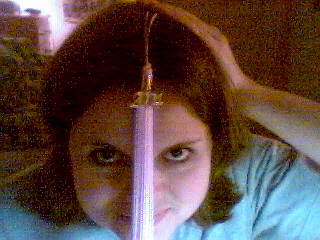 "Won't it be dull when we rid ourselves of all these demons haunting us to keep us company? Won't it be odd to be happy like we always thought we're supposed to feel but never seem to be?" - BNL 2003
So - one last Barenaked Ladies lyric moment before the big day tomorrow. YAY for the BNL concert finally getting here. I never thought it would come. I'm gonna buy a shirt - and maybe a hat... or maybe something else, but I'm certainly going to buy something. I shall post a picture of it for all to see if I'm not dead tired tomorrow night.... which I might be, since tomorrow is a long day. And then Thursday I have a French test - but I'm done until the 22nd after that! Thank goodness for Spring Break. It's coming at just the right time this year. And, as usual, St. Patrick's Day falls during spring break, so you know I'll be having a drink or two (or three - but no more than that because they are bad for diets). I just want to wear green, go to Bennigans, drink a nasty green beer (then drink something good) get a Turkey O'Toole and laugh and be merry. I think I'll be able to manage that.
In the picture I am displaying my PINK tassel for graduation. PINK. Who in the hell comes up with the color pink for the music department? Ah, musicians, they like pink. Ah, musicians - they are all either extremely girly or extremely gay. Ah, musicians, lets make them not only wear the BROWN stole, but also the pink tassel, yes, that is a grand idea. I'm just not crazy about the pink, but life will go on. I'll graduate regardless of the color of my tassel. However, some chick in line behind me at the Coop really liked my pink tassel, as her was BRIGHT blue. So perhaps pink isn't so bad afterall.
Earlier tonight (about 30 minutes ago actually) my apartment made a funny noise for about 5 minutes. The apartment vibrated and there was a VERY loud hum coming from god knows where. But it made things shake in my room and in the living room and the toaster was moving across the cabinet. I have no idea what it was, but it was coming from the floor, or from the apartment below. It was something straight out of a Stephen King novel or something. I was a bit worried for the 5 minutes that it occured, and now that it's gone I'm a bit worried that it will start again. I'll probably hide under my covers if it does, but rest assured that I'll be reporting that to the office tomorrow... let them deal with it. Bah.
Since the BNL concert commences tomorrow, I'll have to find something else to be excited about other than that. So, I shall pick something - ummm.... St. Patrick's Day. This is quite possibly one of my favorite holidays (aside from the stuff yourself silly ones of Thanksgiving and Christmas - ah the commercialism of Christmas that I hold so dear). I love the fact that you can pinch people if they aren't wear green, and you can drink nasty green beer at Bennigans and eat food with Irish sounding names... and that is all okay, because it's St. Patrick's Day. So pull out the green, work on those Irish accents, buy those "kiss me I'm irish" pins and let's roll to Bennigan's and let the fun begin (on March 17th that is, don't want to get carried away just yet). So that shall be my next countdown of sorts. I might even pull out my Flogging Molly CD. Fun stuff.
I was thinking tonight about my mom going to school to finish her degree. She is doing quite well (much better than I'm doing in school - however, it's my 5th year and I'm just looking towards graduating, and not graudating with a 4.0). I'm really quite proud of her. She is 59 and going to The University of Arkansas. I'm amazed. I'm scared now of just thinking of grad school or culinary school, and I'm 23. Wow.... it amazes me really. I just wanted to throw that in there. It was on my mind, so yeah.
And my last little blurb for the evening. I have bid on an N64 from ebay, and yes, I have won the N64 along with 5 games - 007 Golden Eye, Mario Kart, Zelda, Star Wars Pod Racer, and Perfect Dark. I'm quite excited and cannot wait to get those in the mail. I've wanted one of these since early on in HS (I can finally retire the NES to the closet, for I have moved up in the world of video games).
okay - i'm sleepy - nini
3.8.04:::bad computer... bad:::
so my poor little Aptiva crapped out on me earlier this evening. I cried for a moment. It was a sad time for all. But something happened and it's working right now. But I'm really scared to reboot it in fear that it will once again crap out. So... I shall be very gentle with my fragile little Aptiva until I have enough money for the Dell that I designed online (with the help of Nick) tonight. I don't know if I'm more excited about the idea of a new computer or the idea of a flat panel monitor and a subwoofer with my speakers. Fancy stuff. OH, and a 48x CD drive - much faster than mine. Anyways, you can donate money to the "Erin is graduating in May and wants a new computer" fund. Email me for details! Hehehe.
Anyways, this weekend was sooooo exhausting. LHB LHB LHB. But after all was said and done, it was a good weekend. I got to see my little brother (KKPsi - not an actual sibling) on Sunday at the 3rd degree dinner. So yay. I never see him anymore and he's a nifty fellow. The food was also good (but I don't turn my nose up at good Italian). OH, and Melodie and I sat at the bar for a bit, and I gave my number to the bartender. I did it more because everyone said I should... if some unknown number were to show up on my caller ID I probably wouldn't answer. What would I say to the guy? Nothing. But it was still fun to do.
The Band-a-rama drum line show is going to be awesome this year. Well, anything compared to intermissions (or was it interpolations) will be swell. No more tiring cymbal patterns for 40 measures that do nothing more than kill your back muscles. I can wait to get the entire thing put together. Oh, and Band-A-Rama is on May 1st this year at the Erwin Center - all should attend... it will be a good time.
I saw two of the most beautiful things this weekend. The first was a kite festival or something at Zilker. I was driving down MoPac and there it was. TONS and TONS of kites. All kinds of kites. I don't think anything has been more beautiful than that. I've been to hot air balloon festivals that didn't even come close to this. I can't really explain it, but wow. The second was the moon on Sunday night. It was HUGE and golden. It was the largest moon I've ever seen. I don't know exactly how the atmospher works to make the moon look so big, but thanks for that spectacular view! I want to park my car and just look at it.
I think that just about does it for me.
Let the countdown begin - 2 night until the BNL concert and 4 days until my spring break begins. Woohoo.
3.6.04:::hooray for pink bows:::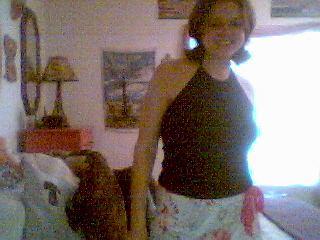 I have a new skirt. It has a pink bow. Yay. Next time I hit up 6th street I shall wear my pink bow skirt. Fun fun.
So today was quite possibly the longest day ever (and it's only 7:40). I woke up at 6AM to get to IHOP for the annual TBS snatch breakfast... yeah... that was a little too early for me. It was tasty yum though and I got to come back home and crawl under the covers and sleep until noon. Aside from that, today was Explore UT. Bah! It was fun, but tireing. We had to march our butts from the bubble to the tower while playing candences. It was a bit warmer than I would have liked (our uniforms are a bit warm) and quite sunny. However, I survived, did I not? I got to play for all the little kiddos and now I'm home, clean, and waiting for something to do to come to me. That won't happen though... but curling up in bed will be quite nice tonight.
It's not that today was bad, it was just long.
Yesterday was good. I went to have coffee with a guy who hails from the Ukraine. That was a first for me. It was interesting to learn about the differences between them and us... and so on. Plus we went to The Metro and it's good there. Yummy coffee and good conversation.
I also went out with the lovely Miss. Todesco last night. We went to Olive Garden (yeah, I know it's not on my diet) and then to see Hidalgo. That was a good movie and now I want a horse. Fun times. It's nice to have a girl night everynow and then.
OOOH, I also bought new jeans yesterday, and they are a size smaller than I usually wear. YAY. They also were super cheap. Gotta love Buffalo Exchange for jeans.
movie time - I'm out.
3.4.04:::lady in red:::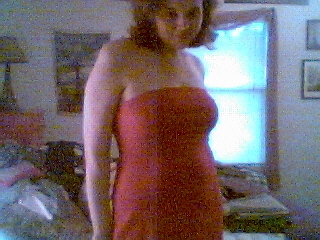 ah, what a glorious day it has been. I got soaking wet walking... no... running from Dobie to the CR bus stop, but you know, after all was said and done, it was fun to run in the rain. No umbrella or anything. My hair was soaked, clothes soaked, and I was loving it. It's not every day you get to frolic in the rain. However, remind next time to bring an umbrella to class. :)
Soooo.... you're never going to believe my good news. As of tonight I've lost a total of 17.2 pounds since the beginning of the semester. MY GOD. I'm gonna be so hot by summer, just watch out to all of those guys who could have had me once :) Anyways, I'm proud of that. I wasn't big before, but I'm certainly not anywhere near it now. I celebrate this loss with a picture of me in my red dress. Perhaps I'll have somewhere to wear it again.
Oh, and other good news. I got my French test back today and I was afraid to look at the grade because I thought I had bombed that bad boy... yes, I thought that I would indeed have an "F" at the top of my paper... but I didn't. Actually, I passed it quite nicely. I honestly don't understand how that happened, but I'm not going to ask, I'm just going to fly with it. So yay for being skinnier and yay for not failing my French test. Oh, and I finished my French work for the night before 11PM, so yay for that too. A ton of yays are in order for tonight.
Tomorrow I have a coffee date. Woohoo. We'll see how it goes. Can't really tell much from first dates, but you can tell if you want to go get more coffee with the guy... you can at least tell that. I'm a bit nervous but hey, I'll get over it. Hopefully this weekend will be full of fun outtings such as coffee dates. I have a TON of LHB things to do so something fun needs to happen to break up the monotony (did I spell that right?).
Anyways - my thought of the day is this: Jackson, Wyoming.
There. Enjoy.
3.2.04:::Something's rotten in Denmark:::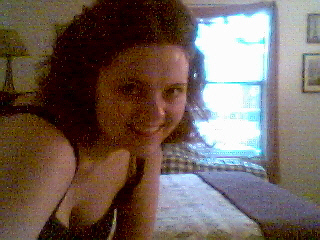 Nick gave me this heading... so a "glllllllllll" goes out to Nick. Is that allowed? To give him a glll? I don't know. Anyways, he gets one. OH, and Paul can get one too, since he hasn't gotten one in a while. Hi Paul.
Sooo - a synopsis of today. I did nothing. I woke up with a temperature (2nd time in the past two weeks I've done that, go figure) so I decided to not do the French thing. Instead I made some yummy good soup to make me feel better. It worked. I make good soup, what can I say (did I mention how humble I am?). I did homework actually, so I did something. I did homework, ordered 22 shirts, ordered another pin, called IHOP and... yeah, went to a TBS meeting. Yay for being half way productive on a do nothing day.
Oh, and I cooked chicken too. Yay for culinary goodness. I got to use my $120 knife so life in Erin world is good today.
Okay - I'm gonna go back to listening to my live Dave Matthews CD and swoon.
3.1.04:::you'll have a drumstick and your brain starts tickin':::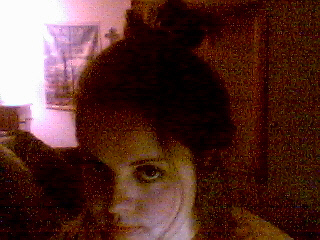 I got my Barenaked Ladies tickets in the mail today. I don't know how I'll be able to wait until next Wednesday to go! My contest is over and Ann is my lucky winner. Congrats to Ann. We are going to have too much fun. I think I'll buy a shirt... and a beer... and sing at the top of my lungs. I had a dream last night about BNL - I made out with Steven Page (one of the singers). I don't know what that was all about but it scored me back stage passed and a guitar from the band - signed and everything. I woke up very upset that I really didn't have the guitar. How do dreams come about exactly?
Speaking of dreams, I haven't had a tornado dream lately. Interesting. I don't know if I should be dissapointed that I can't see my tornados, or happy that I don't wake up wanting to hide under my covers for the rest of the night. They used to be so vivid and each one would get more and more realistic. But poof, they have left for a bit. I suppose it's fine. I really didn't like hiding under my covers anyways.
So - my thoughts of the day :
- French can kiss mine
- French homework can kiss mine
- however, the people in my French class I like
- Slavonic dances certainly gives your emboucher a work out (did I spell that right?)
- Enigma Variations number V isn't my favorite peice ever
- Posse East is certainly a good thing on Mondays that never seem to end (or any day for that matter)
- my Get Lucky shirt is certainly NOT going to fit over my chest (so I have boobs, get over it)
- fleece pants are the greatest thing to happen to me- eve
- hummus - damn it's good
Ah - to be inside the brain of a guy for one day only, that would make me very happy.
Goodnight.